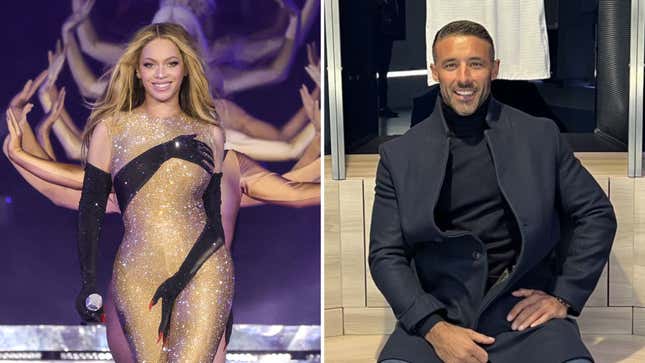 To the left, to the left…is a security guard the entire internet would like to bone.
On Sunday, during the Maryland stop of Beyoncé's Renaissance World Tour, a fan captured a video of one of the Alien Superstar's bodyguards while she sang "Energy." Throughout her stadium tour, Beyoncé's been conducting a little friendly competition between fandoms called the "EERBODY ON MUTE" war. As the Queen sings the line, "Big wave in the room/the crowd gon' move/Look around, everybody on mute," she expects the whole place to go silent. And when she did so at FedEx Field over the weekend, the crowd went so quiet that even her (incredibly hot) bodyguard cracked a smile.
Beyoncé later declared that night's crowd the winner of the challenge thus far, which certainly explains our mystery man's telegenic grin. A clip of the moment started to make the rounds. And while netizens started out innocently commenting on how "impressed" the bodyguard appeared to be with the audience's commitment to the bit, they quickly turned into horny, horny hippos, chomping up every bit of information they could find about the man who professionally protects Beyoncé (Kevin Costner could never).
One fan account helpfully tracked down the man's name—James Plaza—and his Instagram profile for "all you thirsty hoes who have no shame." Though the account has since been made private, you can still see that Plaza is a self-described "Men's Physique Pro Athlete," which is another way to say…he's a professional bodybuilder. Don't believe me? Here, have a treat: a 2022 YouTube video of Plaza competing in a Beach Body competition, in which an eight-pack is visible, and yes, I counted. Might I add that Plaza has spectacular stage presence and nice teeth?
On top of his extracurricular bodybuilding activities, Plaza's website describes his main gig as a freelance bodyguard providing "protective services:"

"Providing Protective services is more than ensuring the physical safety of a client, it's providing a 'Complete and Comprehensive' service that remembers the importance of protecting the client's physical safety & well-being, public image, and reputation. The role of a Close Protection Officer (CPO) carries the responsibility of acting as a public-facing representation of a client, it is crucial the professional service given compliments the standard and image of the client."
To that, I'd just like to say that I think Mr. Plaza would complement my image very well, and that I would very much enjoy putting my physical safety in Mr. Plaza's hands. That being said, I think we should all take a breather from our public salivation: The man apparently made his Instagram account private as of Tuesday and has since garnered over 15K followers. It doesn't seem he was expecting such sudden internet fame, and I certainly don't mean to smother him. But if he'd like to smother me, go right ahead, Mr. Plaza!!! I consent!!!