It is a testament to Beyoncé's cultural power that adults sacrificed their sleep and counted down the hours to the Netflix release of a concert film for a performance they'd already seen a year prior. Beyoncé's impact at Beychella was so monumental that it reinforced and cemented her place as our greatest living entertainer. And there was value in experiencing the moment yet again. The sheer scale and spectacle of her two-hour headlining performance was her own personal stigmata; convincing proof of her visionary creative might, presented with dismissive, arrogant glee and braggadocio to the Doubting Thomases of the world. With Homecoming (written, directed and produced by the star herself), Beyoncé allowed her fans an intimate look not just at the behind the scenes process of creating this monumental performance, but at the work ethic and sacrifices that it took to get there.

Beyoncé is a woman with the singular ability to reinvent herself. Not in the Madonna sense of creating and living in new personas, but in the way that she is capable of looking back at her past creative output and finding ways to bring it into the present, updating it to reflect any such time that she might need to reference it. In Homecoming, we're reminded again of how often she does this with ease. Mixing her own tracks with Nina Simone, O.T. Genasis, Dawn Penn, and Sister Nancy, she incorporates cultural touchstones that are centered in the African American tradition, but also reach across the ocean to connect them to the diaspora and a communal experience of blackness.
Homecoming can be seen as the culmination of Beyoncé's years-long exercise in constructing her own legacy. Her fans know that she painstakingly documents her life. Everything she does is available to her at a later time for her own self-reference. She constantly pulls from her own oeuvre and reimagines it in innovative and exciting ways, folding it in on itself and compounding how we are instructed to see her work. With each new musical outing, she invents a new frame through which to view her output, demonstrating the long arms of her creative imagination. Her music has always had the ability to be molded and reconfigured in this way; shaped to match the myriad visions she has for the ways she wishes to present herself to the world. Beychella was the culmination of this vision, a seismic flexing of her creative dexterity.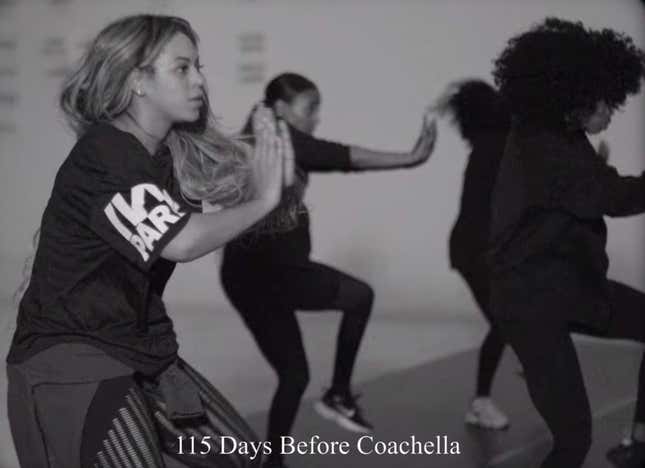 Beyoncé has been criticized in the past for the intensely restrictive way in which she controls her image, but in the context of her own career and the treatment of the black women who came before her in the music industry, it's easy to see why. As a contemporary black female performer who is still constrained in the imaginations of white audiences, a significant part of her mission is to ensure undeniability. It is no exaggeration to say that performance will occupy substantial real estate in her obituary. As Coachella's first black female headliner in its 20-year history her presence alone was significant. And yet, she chose to mark the occasion not simply by turning up, but by bringing other black people along with her and showing what audiences had been missing by excluding her and others like her. Beychella was as much a showcase for Beyoncé as it was for the 200 other vocalists, dancers and musicians who graced the stage alongside her. This will forever be their calling card. They were part of a historical moment.
What is newly revealed and should be most apparent in Homecoming is Beyoncé's obvious and intentional dedication to bringing blackness and black culture into white spaces. Her fame has granted her access to many a rarefied white enclave, and with that access she has lifted as she climbed, making her presence known and setting up shop with other black creatives in ways that demonstrate they have not only always belonged, but that the space is theirs now; changed by their presence and better for it. The 2018 release of The Carters "Apes**t" music video, filmed in the Louvre in Paris, was a continuation of the project that began at Coachella: black voices, black bodies, and black art will invade white spaces, dismiss them, trample over them, and leave them forever changed, elevated to heights that will never be reached again without the collective energy of their combined talents.
But what Homecoming reveals, too, is that Beyoncé is intimately familiar with her limits. In backstage interludes exploring the lead-up to the festival, she talks at length about her difficult pregnancy, her struggle to get back in shape and regain her stamina, and her knowledge that her team is large but integral to her own success. She talks about handpicking her dancers and musicians, working to arrange the massive show with her music supervisor, and having a hand in every aspect of the show's production and costume design. Her team is sprawling, but without them, the spectacle of Beyoncé is still just one woman with a husband and children who wants to go home to see them at the end of the day. Beyoncé has a deep appreciation for the community she needed to build in order to realize her vision.
Significantly, Beyoncé's "team" also includes the black feminists, scholars and thinkers who came before her. From her public embrace of feminism with a citation of African feminist Chimamanda Ngozi Adichie upon the release of her 2013 self-titled album to framing her 2016 follow-up Lemonade with the poetry of Warsan Shire, Beyoncé has made a habit of centering black women in her art, and the trend continues with Homecoming. Bookending this phase of her career with black feminists like Audre Lorde and Maya Angelou feels like a significant aspect of the cementing of her legacy. She is visible and she is famous, but she became the woman she is because of the women who came before her, who have been too often erased or ignored. Beyoncé builds on the work of these women, but is also in conversation with it through the way she practices that art. She is always ensuring that her impact cannot be erased with the passing of time, while reaching back to make sure these women are not papered over, either. If you love Beyoncé, you must love them, too, she seems to be saying. They are how she became herself.
Homecoming shows how Beyoncé used Coachella to effectively closed the door on this phase of her career while commemorating everything she has achieved thus far; sealing it in amber for generations after her to access, but also primarily for her children. An era that began with her self-titled album ends here with the concurrently released live album, the pinnacle of her decades-long career, and the truest testament of her visionary abilities. With these projects, she demonstrates her peerlessness while elevating those who are coming up behind her. When all is said and done, Homecoming is myth-making in action.
---
Cate Young (@battymamzelle): smugsexual, thundercunt hagbeast.