Celebrities are stepping up to support Houston, pledging donations as well as promising to work on recovery efforts through their own charities.
Much of Houston is currently under water, as Hurricane Harvey travels across Texas, leaving thousands in need of shelter and supplies, many trapped in their homes, and at least 15 reported dead so far. The size of the storm is unprecedented; CNN reports that Harris County has registered 48 inches of water, making it the "most rain ever recorded in the contiguous US from a landfalling tropical cyclone."
It's difficult to assess the damage as the rain continues, and the magnitude of the water keeps causing unanticipated issues. Officials from Brazoria County issued a breached levee warning via Twitter on Tuesday morning. It read that everyone in the area should evacuate immediately, though according to CBS there was a mandatory evacuation order issued on Sunday:
Though the damage cannot be fully estimated until the rain ceases, recovery efforts will undoubtedly be expensive. On Instagram, Kevin Hart promised $25,000 for Houston on Monday, and called out some of his rich and famous friends to join him.
G/O Media may get a commission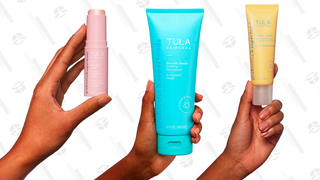 Nicki Minaj and DJ Khaled each responded with their own $25,000 pledges, as did T.I., though he encouraged followers to donate somewhere besides the Red Cross:
Chris Brown promised $100,000, though he also said not to donate to the Red Cross and promised to get his money "to the people."
Beyoncé gave a statement to the Houston Chronicle, saying she would be working with her charity BeyGOOD to figure out how to distribute money and support:
"My heart goes out to my hometown, Houston, and I remain in constant prayer for those affected and for the rescuers who have been so brave and determined to do so much to help," she said.

"I am working closely with my team at BeyGOOD as well as my pastor (Rudy Rasmus at St. John's in downtown Houston) to implement a plan to help as many as we can."
Claiming Houston as the hometown of his heart, on Instagram Drake suggested he too would be giving money or resources of some kind to Houston. Country star Chris Young pledged $100,000 and started a GoFundMe that has raised about $200,000 of a $500,000 goal. Houston Texans defensive end J.J. Watt also started a fundraiser on YouCaring, which is almost at its $2 million goal. Kim Kardashian tweeted Tuesday morning that she, her mother and her sisters would be giving $500,000 in total to the Red Cross and Salvation Army.
In an interview with Mass Appeal, however, Houston rapper Bun B expressed that money isn't exactly what the city needs at this very moment, judging from his organizing efforts on the ground. After being asked about Kevin Hart's money-raising efforts, Bun explained that he's feeling urgency for those still trapped in the city:
I'm not saying that we don't need money. It's going to take a lot of money to rebuild the city of Houston. I'm putting together things right now to organize ways to raise money on a massive scale, not on a smaller scale, on as large a scale as we can possibly do. And money is going to be needed, but I'm saying right now, people stuck in an attic, they don't need money right now. They need someone with a boat to come save their lives. I'm talking right now, real time, what people need.

[...]
It's going to take massive amounts of money to fix the situation, but today, right now at 11:02 a.m. CST, we need shallow water boats and kayaks and anything that floats, to go and get people out of their homes. We need huge dump trucks, we need to get people out of those neighborhoods into shelters. Get people safe. Because we still have three more days, at least, to hunker down. At least three or four more days.