Beyoncé notoriously grants very few interviews at this point, but she's been grilled enough that she knows what to do in the hot seat. And who better to interview Solange, Interview Magazine's newest cover star, whose 2016 yielded her best music yet?
The interview begins with Solange's evolution as a young, headstrong childhood musician, with sister Bey wondering about the sometimes defiant qualities Solo exhibited even as a young girl. "I remember being really young and having this voice inside that told me to trust my gut," says Solange. "And my gut has been really, really strong in my life. It's pretty vocal and it leads me."
The duo's familial bond on display gives us more insight into their well-documented childhoods than we ever have, as they discuss the making of A Seat at the Table—on which their parents were sampled talking about their lives—and the process in general that entwines their artistry and the fabric of their beings. And further, she confirms that "Cranes in the Sky"—the self-care anthem of 2016—is, in fact, about Solange's growth into womanhood:
I really had to take a look at myself, outside of being a mother and a wife, and internalize all of these emotions that I had been feeling through that transition. I was working through a lot of challenges at every angle of my life, and a lot of self-doubt, a lot of pity-partying. And I think every woman in her twenties has been there—where it feels like no matter what you are doing to fight through the thing that is holding you back, nothing can fill that void.
And, significantly, she discusses the way singing in certain tones, on that song in particular but also on others, is a way to manifest and assert that specifically black womanhood:
It was very intentional that I sang as a woman who was very in control, a woman who could have this conversation without yelling and screaming, because I still often feel that when black women try to have these conversations, we are not portrayed as in control, emotionally intact women, capable of having the hard conversations without losing that control. I had not really explored my falsetto as much on previous works. As you said, I have always loved Minnie Riperton, and I loved Syreeta Wright and really identified with a few of her songs that she and Stevie Wonder did. She was saying some really tough shit, but the tone of her voice was so sweet that you could actually hear her more clearly. I wanted to find a happy medium, feeling like I was being direct and clear, but also knowing that this was a conversation that I was very much in control of—able to have that moment, to exist in it, to live in it and ponder it, not to yell and scream and fight my way through it—I was doing enough of that in my life, so I wanted to make a clear distinction of me controlling that narrative.
G/O Media may get a commission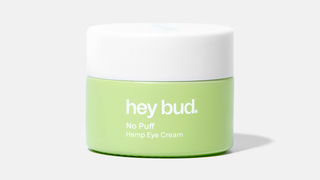 15% off
Hey Bud - No Puff Hemp Eye Cream
It's a sweet, powerful, full-meal of an interview (and it also sheds light on Solange's Real Housewives of Atlanta obsession). Read the full thing, and see a beautiful spread of sepia-toned, autumnal photographs, here.