Just one week after chopping off all her hair and giving everyone — even straight dudes! Even my dad! — an arrhythmia, Beyoncé's back on the extensions. The Pixie has disappeared in favor of an asymmetrical blond Bobyoncé (with the help of extensions, obviously), which she wore out to dinner in Miami with Jay Z. He looks like he is about to fuck someone up, incidentally. Maybe the waiter forgot to bring the bread, or strangers were taking obtrusive pictures of himself with his wife and child. [E!]
---
Kanye West thinks those paparazzi pictures of Kim Kardashian and (a totally swaddled and unseen) North from yesterday were the result of a tipoff by one of the Kardashians, most likely well-intentioned loser Fredo Kardashian. [Radar Online]
'Ye got booed at an L.A. Dodgers game when they showed him on the Jumbotron, which is the stuff of normal Muggles' nightmares, but he was just like *shoulders: brushed off.* [Us Weekly]
G/O Media may get a commission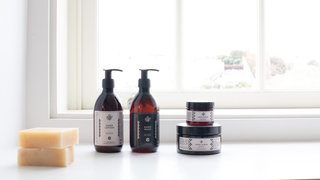 Exfoliate and Hydrate
The Handmade Soap Company
---
And on this great orb 'twixt Venus and Mars, Butterscotch Stallion Owen Wilson went to a club in the Meatpacking District (ew, Owen) and picked up a girl in her mid-twenties.
Wilson made his move sometime after 10 p.m., when he spotted a male partygoer dancing by her table. Seizing his chance, he smoothly approached the svelte beauty. "He asked her if the random guy was her boyfriend," we're told. The mystery woman looked pleasantly surprised to see the movie star flashing his famous crooked grin at her, and joined his party for drinks.
This occurred at the precise moment my cat puked on the floor. [NYDN]
---
Summertime jammin' sexnugget Miguel was arrested for a DUI at around 2 AM yesterday, blowing a .10 and .11 into the Breathalyzer given to him by the cops — .02 above California law. He was booked and released on $5,000 bail.
His court date is scheduled in September. TMZ has a piece of arrest footage with a helpful, giant red arrow signifying "MIGUEL," if you want that. [TMZ]
---
Images via Splash