I mean, I like Blue Ivy and everything—she's super welcome at my birthday karaoke—but I seriously do not get the appeal of obsessive celebrity womb-sleuthing. Like, you guys, Beyonce either has another adorable mini-muffin Easy-Baking in her diamond-encrusted Jacob the Jeweler mommy-oven, or she doesn't. And either way, I'm SURE she will let you know in her own time. These things have a way of coming out, eventually, on a waterslide of bloody sequins. But anyway, Bey-Bey went to France and ate a fish and now all the amateur gumshoes are putting on their thinking caps and it's just sooooooooo annoying.
The 31-year-old singer shared a snapshot of the impressive menu on her Tumblr, with one dish noticeable in the foreground: Salad Nicoise, or tuna salad. The pair is currently in the South of France, where they spent a little down time together aboard a luxury yacht on Tuesday, May 21.

The fish has long been considered a controversial food for expectant mothers due to its high level of mercury, so Beyonce's decision to post a menu highlighting the dish may suggest that the "Grown Woman" singer is, indeed, not pregnant. Or, conversely, Bey could have just been hungry for some salad.
Hnnnnnngggg!!! Let's talk about it more! Maybe it wasn't Beyonce at all but instead a glancing sunbeam with a wig on it! Maybe "nicoise" is an acronym for "Normals! I Can Only Ingest Stardust, Eubvieuslehhhh." Maybe that fish owed her money and this was a revenge-salad! IN CZECH REPUBLIC TOO WE LOVE PORK HAVE YOU HAD OUR SAUSAGES [crumbles into dust and blows away]. [Us]
---
Here's Will Smith on parenting:
The actor told Haute Living magazine that "specifically in African American households, the idea coming out of slavery, there's a concept of your children being property and that was a major part that Jada and I released with our kids."

So how does he handle getting his kids to do their chores?

He said, "Things like cleaning up their room. You would never tell a full-grown adult to clean their room, so we don't tell our kids to clean their rooms. Actually, we tell our kids 'You don't have a room, that's our room and we are letting you borrow it.'"
G/O Media may get a commission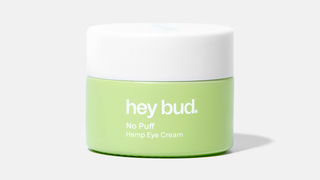 15% off
Hey Bud - No Puff Hemp Eye Cream
Also, those rumors about Jaden wanting to be emancipated are silly, because he is a gigantic scaredycat.
"He is definitely not going anywhere, he is so scared of being out on his own," he told the mag. "Willow is probably going to be emancipated before Jaden!"
Am I missing something? Is there some reason for me to not be totally into this family? Because I am. [E!]
---
Avril Lavigne says that her fiance Chad Kroger is hella romantic.
"He's nice, and real, and kind," she says. "For me, it's about having a connection on a deeper level. Be romantic!"

And if Chad ever stops being romantic, he'll hear about it. "I'm so transparent," Avril says. "If I'm not being myself, I won't do well, and that goes for writing songs, work, relationships, everything. And if I'm not happy, people are going to know that."

We'll hear some of that realness on Avril's new album, due out sometime this summer. "Lyrically, I pushed myself to talk about different subjects I haven't talked about before," she explains. "I didn't want to be so simple. I tried to really express myself and go deeper."
It certainly does sound like you have gone deeper with subjects. I hope the album also includes topics! [E!]
---
Julianne Moore talks about the struggles, anxieties, and frustrations of being a female actor with an expiration date.
"Men aren't asked about age. Men aren't asked about their children. Not that these things aren't important, but I do feel like it becomes reductive when a woman's life becomes, 'Talk to me about your kids and how you feel about plastic surgery.'"

Still, Moore says she's mainly shocked and grateful for how her life turned out. "If I saw myself sitting here at 52, talking about my career and how I've been doing it for the last 30 years, I'd be like, 'Are you kidding me? It happened?"
Is she an awesome woman, or is she...the best woman? THIS POLL IS BINDING. [E!]
---
Goop had a goopy Goop party with lots of goopy guests, and kale probably. [E!]
Amber Rose and Wiz Khalifa say they don't take their baby outside because he hates carseats. [E!]
Elin Nordegren is mad about something, supposedly. [Extra]
A-Rod made a $15 million profit on the sale of his Miami mega-mansion. [TMZ]
Amar'e Stoudemire had a son. [People]
Sienna Miller went outside with boyfriend Tom Sturridge and they touched hands. [JustJared]
"How the fuck did I get like this?" asks Kim Kardashian, referring to her pregnant belly. Are you...are you really asking? Because basically, when two narcissists love attention very very much, they do a special kind of hugging in front of the slavering media and a bunch of violent, creepy body-shaming comes out. You're welcome! [E!]
Stefan from Top Chef talks about stuff. [TooFab]
Solange looks fucking awesome, as usual. [E!]
Amanda Bynes forward-head sad-mouth. [DailyMail]
Paris Hilton is releasing an album because what the fuck we're all going to die and rot anyway. [E!]
This past weekend my 11-year-old quasi-stepdaughter paused the nonstop Demi Lovato and was like, "Hey Lindy, have you heard of...'Mariah Carey'?" and then played this shit and I'm still weeping from pride.

Images via Getty.