Beyoncé is the latest celebrity to weigh in with thoughts on the situation in Baltimore. The singer posted two photos on her Instagram today and encouraged fans to help restore the city by making donations to the NAACP. Her first photo was of the recent Time cover that depicts similarities between today's riots and those of the '60s following the assassination of Martin Luther King Jr. while the second image is of a Baltimore protester draped in a flag written with Freddie Gray's name.
"People are hurting. Join us in supporting the NAACP to help in the cleanup efforts and to provide housing, food and supplies to those affected by the unrest in Baltimore," Beyoncé wrote in the caption, ending with a link to the NAACP's donation page.
---
G/O Media may get a commission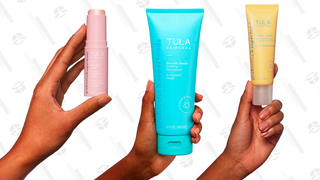 Empire's Taraji P. Henson also got political during a night where she was honored by the American Black Film Festival. She revealed her thoughts on "the times we're living in," concerned for the safety of her 20-year-old son Marcel. Henson spoke about her childhood, when police officers were known as "Officer Friendly" and would come to her school and talk to the kids. "So there was a certain trust. Then when crack got dropped off and the war on drugs, it all changed. And it became mostly military, it was very military. What are the officers doing with the same weapons that you're using overseas on citizens of the United States? I don't understand," the actress said. Times have definitely changed, Cookie.

---
What do Stacey Dash's old Clueless pals think of her recent comments in regards to the wage gap? While Cher Horowitz has been keeping quiet, Amy Heckerling did have a diplomatic response. The Clueless director was asked about Dash during a screening for Kristen Wiig's new film Welcome to Me. "I don't always agree with her, but she's a friend, and I love her, and, you know, I'm glad that she's getting exposure and having a good career. But I'm in a different place from her, certainly," she said. Heckerling is still rollin' with the homies even if their politics clash.

---
Images via Getty and Instagram

---
Contact the author at marie.lodi@jezebel.com