Beyoncé and JayZ pulled a Bill Murray and surprised the holy hell out of a couple in Italy. Yoncé and Jay were on vacation in Portofino, Italy on Saturday when they stumbled upon a wedding (that really looks completely lovely, by the way). Via Us Weekly:
The "Flawless" singer, 33, posed with the bride while wearing a floral printed bikini and straw hat. The overjoyed newlywed wore a long-sleeved lace gown with a crown of white flowers and a permanent smile while posing with Queen Bey.
Here is the bride's reaction:
One day, the entire world will be just be an empty abyss, filled with nothing but celebrities randomly crashing weddings. They will leave nothing but devastation in their wake. We will be terrified of them, hunkered down in our bridal suites, with only copies of OK! Magazine to keep us warm while fearfully keeping an ever-vigilante eye out for another famous person who wants to accidentally surprise us during our nuptials.
---
Brace yourselves for the oncoming theater geek fangasm—Patti LuPone is going to guest star on Showtime's Penny Dreadful. They are keeping the details of her character under wraps, but I'm as eager as you are to see if next season will feature a rousing version of "Anything Goes" featuring LuPone, Eva Green and Timothy Dalton. [Entertainment Weekly]
G/O Media may get a commission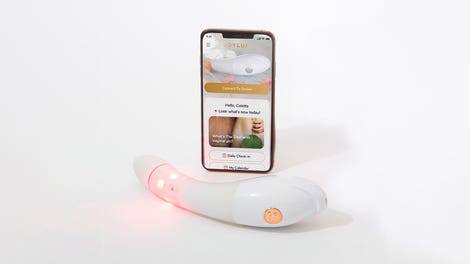 $50 Off
Joylux vFit Gold Device
Bill Murray likes the idea of a Ghostbusters reboot with all women. He has some pretty suggestions for cast members, including Mad Men's Linda Cardellini, Emma Stone and (surprise) Melissa McCarthy, who everyone wants to see in everything funny that is about women. [Toronto Star]
Big Freedia is writing a memoir, which should be out in 2015. [Twitter]
Oh look, yet another casting rumor for True Detective. Apparently Rachel McAdams is "in talks" to play a "no nonsense sheriff," as opposed to a "nonsense sheriff" who walks around with a red rubber ball on their nose pranking people with hand buzzers and peanut cans filled with snakes. This officially makes our 124,098,231 True Detective casting rumor so far. [The Independent]
Director David Fincher and writer James Ellroy are working on a 1950s film noir series/project for HBO. Ellroy is also working on a remake of Laura which both intrigues me and depresses me at the same time. [Slash Film]
Did we know Reese Witherspoon is working on a biopic about Peggy Lee? Well, she is and the film now has a director—Todd Haynes, the woefully underused genius behind Far From Heaven. This is your official pre-warning that soon there will someday exist a clip of Witherspoon singing "Fever." I'm sure the Internet won't make a big deal out of it or anything. [The Hollywood Reporter]
Real Housewives of New Jersey stars Teresa and Joe Giudice are selling their house. You can pick it up for about $3.9 million, give or take. [E Online]
The new Doctor Who is in a film about Leonardo Da Vinci and it will be released in the United States, so you won't have to pawn everything you own to fly to Europe so you can brag about having seen it to all your friends on your favorite Doctor Who fan forum. (YES I KNOW HIS NAME IS PETER CAPALDI; DON'T SCREAM AT ME, WHOVIANS.) [Variety]
As a reminder of all things perfect, here is LuPone killing it at the Tony Awards back in 1980.
Lede Image via Splash News Online.