Wedding registries are a funny thing, an anachronism of the engagement and marriage process of yore. They're a throwback to the days when couples married younger and really were just starting out. Things are much different now, but registries are still a big business. Best Buy wants a piece of that action, so they've started a wedding registry.
No matter how long you've been with your partner, a wedding celebration is still about committing to a life together. Guests want to help you celebrate. Traditionally this means helping you build a home together, whether you already had one or not. And if you've already got pots and pans and blenders, this might seem totally pointless.
But here's the thing with registries: They are usually the one real opportunity you'll have to upgrade stuff around the house at no cost. Unless you spend your days dreaming of Chilewich placemats, you're far more likely to spend your money on other things, items that feel more necessary. If you've got perfectly nice flatware from IKEA, you won't be upgrading to a 18/10 stainless set anytime soon. If your cast iron Lodge pieces are just fine, you're not going to replace it with Le Creuset for years, if ever. Sure, it'd be nice to toss that old Target lamp and get something new, but why bother? What you have is good enough for now and you're barely home anyhow. You will always have better things to buy than nice wine glasses.
Except…the nice wine glasses are pretty great. Just ask Olivia Pope. (And so what if the cat breaks one? You didn't pay for it.) That stainless steel flatware feels nice in your hand and eating ramen noodles feels 20% less pathetic. Le Creuset lives up to its reputation. And the new lamp looks fantastic. These upgrades are far from crucial, but there's nothing wrong with having—and appreciating—nicer stuff around the house. They're a domestic treat, and your guests want to give you that.
Obviously wedding registries are no longer strictly limited to the accoutrements of a "grown up" home. Honeymoon funds aren't unusual and are still associated with celebrating your union. It's not sketchy for couples ask for cash if guests know it's going towards something specific and important, like a down payment on a house. These are helpful gifts for a couple and, again, your guests want to give you that help.
G/O Media may get a commission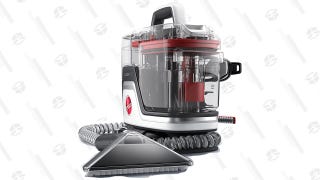 Save $10
Hoover CleanSlate Plus Carpet & Upholstery Cleaner
From this perspective, a Best Buy registry is totally a-okay. If you're registering for home appliances, a Kitchenmaid mixer is a Kitchenmaid mixer whether you register for it at Macy's or Best Buy. But more notably, there just might be a crazy-generous person on your guest list who wants to buy you a front-loading washer (lucky you). And if that's totally unrealistic, maybe you want to eventually buy one, so register for it anyhow—after the wedding, you can buy it yourself for 10% off through Best Buy's registry completion program. (In fact, I'd argue the registry completion discount offered by most retailers is reason enough to put some desired big-ticket items on your wish list, even if you know no one will actually buy it for you.)
However. However. Without the proper amount of self control and sense of propriety, a Best Buy registry can be a total disaster. Best Buy is where you go to get expensive toys. Registries are not for toys. Even if you're putting electronic goodies on your registry for the sake of that completion discount, it looks greedy. It implies that you don't understand or appreciate why people are buying you gifts. Your guests have zero interest in helping you get a 65" ultra HD television or Sonos speakers, which have nothing to do with celebrating your union or building your life together. You don't need Le Creuset, but kitchenware is associated with your home. It doesn't matter that the PlayStation 4 will also be in your home; the association is one of childish indulgence.
These associations matter. When you're handing guests a very specific list of stuff you want them to buy for you, it does matter what they think. People are far less inclined to be generous if they think you're a tool. And rest assured, asking for an iPad makes you look like a tool.
Also, your mother will be horrified.
Image via Best Buy.