Beverly "Guitar" Watkins is trying to break out of the old folk's home: "I want to be where I can be free," she says. "I live that rock & roll lifestyle."
That's the opener for this incredibly wonderful profile of Watkins in the most recent issue of the Oxford American. Watkins is now about 77, one of the pioneering innovators of blues guitar who's never quite gotten the full fame she's due. Reporter Rachael Maddux tells the amazing story of the timeline leading up to when Watkins put out her first record, Back in Business. It was 1999, and she was 60 years old.
Watkins' musical career began her senior year in high school, where she played for the backing band of a guy named Piano Red, who later went by Dr. Feelgood.
It was, Maddux writes, not an easy time to be a young black woman, let alone one doing something as unconventional as working as a touring musician:
As a young black woman, Watkins was in a doubly tricky spot. Sometimes Piano Red's niece Zelda came on tour to keep her company, but otherwise she was the only woman around, in the van and onstage. (The male Interns wore white doctors' coats when they played; she wore a nurse's uniform and hat.) "Piano Red was just like my dad," she says, "and they was like my brothers, all the band members back then. Piano Red said, 'If you all go out anywhere, make sure you take care of Beverly.' And they did. I was very attractive. If somebody would walk up to me, want to talk to me, I'd say, 'Oh yeah, that's my husband right there'—I'd pick somebody in the band." At twenty-four she got pregnant, gave birth to a son, and kept on touring.
G/O Media may get a commission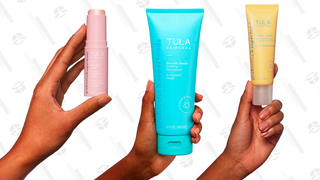 After Piano Red's outfit broke up, Watkins spent time in a few other backing bands, opening for people like James Brown, B.B. King, and Ray Charles. But by the late '60s she was off the road, cleaning houses and working at carwashes.
That lasted from the late '60s to the late '80s, when she started busking and playing at jam sessions around town, which led to her finally getting a measure of the spotlight she's owed. Some of her help came from the Music Maker Relief Foundation, Maddux writes, whose mission statement says it is dedicating to preserving "the musical traditions of the South by directly supporting the musicians who make it, ensuring their voices will not be silenced by poverty and time." With their help, Watkins started touring again and putting out records. (She's best known for playing her guitar behind her head, which is one of the many indicators of her incredible technical skill and overall badassery.)

And now, Watkins is in her senior years and living an enviably cool life, Maddux writes:
Now her skills are sharper than ever. She still takes lessons, still learns new licks and chords, and she still holds her bands to the same high standards she's always had: "Back in 'em days when I came up, I had to practice," she says. "If we were late for practice twice, I mean, the next time you didn't play. That's the way it was when I was in Piano Red's band. My band now, they have to be on time. And we practice. And we sound good."
But her band can't practice at the old folks' home; she needs a house with a yard and room to move, and if there's any justice in this world, some rich arts foundation with more cash on hand than Music Maker will go ahead and buy her one.
As a bonus, once you've finished with Oxford's profile of Watkins, also read the gorgeous piece they ran in December about Little Richard, another national treasure who's now older and sick and shamefully forgotten.
---
Contact the author at anna.merlan@jezebel.com.
Public PGP key
PGP fingerprint: 67B5 5767 9D6F 652E 8EFD 76F5 3CF0 DAF2 79E5 1FB6
Watkins onstage in 2013. Screengrab via YouTube/Rotting Tapes