I don't know much about the Betheljazzy-Frankenhopper union, because I tend to fall into a fugue state any time the words "Real" and "Housewife" are mentioned in the same sentence (side effect: I am unconscious 23 hours per day). But I understand that the American public has some genuine affection for the pair (right? Am I making that up? Or am I thinking of the Giulibilly-DePrancics?), and I also understand that they are both very very sad about the dissolution of their 2010 nuptials, and I also also understand that break-ups are the worst. So, my condolences. Anyway, apparently the pair is still living together post-split, for the sake of their 2-year-old daughter.
Frankel is reportedly devastated that her marriage to Hoppy, whom she wed in 2010, has failed, a source told People magazine. Although they tried to make it work, they constantly argued about things like money, family and gender roles.

"It just got too hard to be husband and wife," the source told People. "With Bethenny, it was her way or the highway. If you are a person who surrounds yourself with people telling you, 'You are right; we will bend over backwards to make things happen for you,' you will have a tough time in marriage. Marriage doesn't work that way."

Despite the split, Frankel and Hoppy are still living together and will share custody of their 2-year-old daughter, Bryn, according to Us Weekly.

"There are not plans yet for [Jason] to move out of their NYC loft," a source told Us.
I would very much like to hear more about this "gender roles" thing. That said, best of luck, Frankenhoppers. [HuffPo]
---
Kristen Stewart dreams of starring in a female ensemble comedy. I ENDORSE IT.
"Theater is a completely different way of working, but, yeah, I would be very much down," she says in response to a question about Broadway. And in addition to being excited about the "really fun" script of her grifter comedy Focus, she says she'd really like to find herself in another kind of movie setting: one featuring an ensemble of other young actresses, such as Jennifer Lawrence, Dakota Fanning and Amy Adams. "There are so many cool girls out there!"
G/O Media may get a commission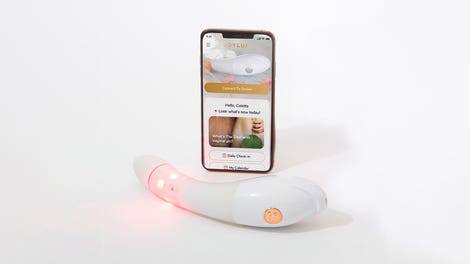 $50 Off
Joylux vFit Gold Device
Also of note: the profile of Stewart in V Magazine describes the actress as having "a slightly feral air." That's good writing. [VH1]
---
CBS's Hawaii Five-0 reboot—which, reportedly, exists—is trying the first ever "Choose Your Own Adventure" television programming:
The Jan. 14 episode will allow viewers to select how the hour of the cop drama ends, using real-time voting via CBS.com and Twitter during the broadcasts in both the Eastern and Western time zones, the network said Thursday.

In the episode, the team will investigate the death of an Oahu State University professor, with his boss, teaching assistant and a student he busted for cheating among the viable suspects.

..."I've always felt the most fun aspect of watching a mystery is trying to figure out whodunit," executive producer Peter Lenkov said of the effort, a first for a primetime TV drama. "Now the Hawaii Five-0 viewers will actually get the chance to tell us who they think committed the crime, and we will listen. I love that our dedicated and attentive fans will actually play a part in resolving our story."
Oh, man! It's so crazy...that it just might definitely not work!!! [HollywoodReporter]
---
To memorialize his beloved late grandmother, Drake got a gigantic back tattoo of Freddie Prinze from Chico and the Man. [LifeFiles]
---
I can't for the life of me figure out why this article is asking "where" Ginuwine is "now," because the answer is obviously IN MY STEREO AT ALL TIMES. [HuffPo]
---
Britney Spears is the proud owner of at least 27 million dollars—a fact that I'm fine with, considering she brought us every single one of these faces. [TMZ]

Apparently somebody took an ugly pic of J-Woww's bunz on New Year's Eve and spread it all over the internet (this is what we do with our brief time on earth, mortals), so she grabbed control of the narrative by releasing her own butt videos. "My real booty lol make fun of mine not a fake one...I know it's not Victoria Secret but it's mine and it took a lot of donuts and cheeseburgers to get this!" Duly noted. [VH1]

lolololllolololololooolololol @ Ashton Kutcher's Steve Jobs beard. [HollywoodReporter]

I'm calling it now. Tom Selleck talking about how he sprained his ankle is the best short story of 2013:


"I was at the ranch, and as an any good rancher, I was doing my thing, manly stuff, and I saw a bobcat. I had my binoculars, as any good rancher would, and I'm looking at it and I stepped on this stationary rock, which wasn't stationary, and I'm rolling down the hill.

"It's one of those where you have a lot of time to think and go, 'That was really stupid.' And you wonder what's gonna happen when you get to the bottom. And I sprained my ankle."

[Orson Welles clapping gif.] [ContactMusic]

I wish you guys could see my face while reading this piece about Kelsey Grammer and Martin Lawrence developing a sitcom together. [Vulture]

George Lucas is engaged! So...[some shitty joke]!!! [IMDB]

Adam Levine is going to host SNL but is FORBIDDEN FROM SINGING. [HuffPo]

Kanye West got pulled over for speeding but did not get in trouble. Also here is a picture of Kim Kardashian's butt because relevant. [DailyMail]

Meredith Vieira accidentally said the shit-word live on the Today Show. [E!]

Helen Mirren has an adorably randy British crush on Colin Firth. [Reuters]

THIS MAKES ME EXTREMELY UNCOMFY. [ONTD]