Real Housewives of New York star and Skinnygirl Cocktails founder Bethenny Frankel announced Monday that she would appear on next season of the greatest show on television, Shark Tank. In a tweet, Frankel shared a photo of herself watermarked with the show's iconic logo alongside the caption, "I guess I am a shark after all. Watch out @ABCSharkTank - comin' for u this fall. Are you as excited as I am?"

No, Bethenny! I'm not excited at all! In fact, I'm furious! ABC's Shark Tank is a sensitive ecosystem, and one that rarely survives the introduction of new species. Its current frenzy—Barbara Corcoran, Mark Cuban, Robert Herjavec, Daymond John, Kevin O'Leary, and Lori Grenier (and in that order!)—is a perfect mixture of personalities, business strategies, and egos. Their banter is antagonistic yet respectful, their relationships are well-defined. But every time a new face is dumped in, the water gets murkier; its pH balance gets thrown off.
This is why it's so depressing that ABC has announced that not one but five guest sharks will appear on the series next season. In addition to Frankel, the network has snatched up Richard Branson, Sara Blakely, Rohan Oza, and Alex Rodriguez. While I am a little excited at the thought of seeing someone as eccentric and rich as Richard Branson on television, no amount of money or lunacy can replace the sharks I know and love.
Guest stars have never improved the show—and in some instances they have only made an episode worse. While it's sort of fun to see an actual billionaire like Chris Sacca (a frequent guest shark who will no longer appear on the show) sit on the opposite side of the tank as his billionaire nemesis Mark Cuban, he has the insufferable and childish attitude of a vengeful, former (current?) dweeb. Plus, his hideous western shirts are distracting. Manager and talent agency CEO Troy Carter was fine, though his specialty (the music industry) was far too niche and honestly I will never be happy when a guest replaces the woman who is unequivocally the best shark, Barbara.
G/O Media may get a commission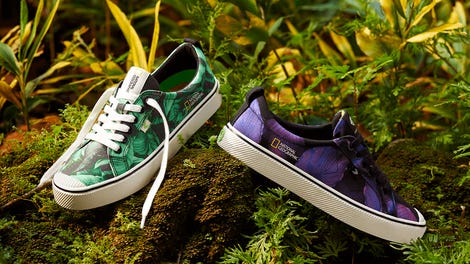 New New New
Cariuma + National Geographic
But I haven't even gotten to the show's worst guest shark of all time—the celebrity whose presence in the tank was so disrespectful to the concept of sharks that I almost gave up the show for good. No, I'm not talking about Jeff Foxworthy, I'm talking about Ashton Kutcher. Did you see his two episodes? This dude tried to impress us with his VC firm (I will never be impressed by a VC firm), performative note-taking, and Lenny-like approach to listening:
I fear the new guest episodes will be similarly terrible—mere fish in sharks' clothing—and am already upset that the best part of my week (the Saturday mornings when I cook a big breakfast and watch the previous night's new episode of Shark Tank) will ruined at least five times. And for that reason, I'm out.