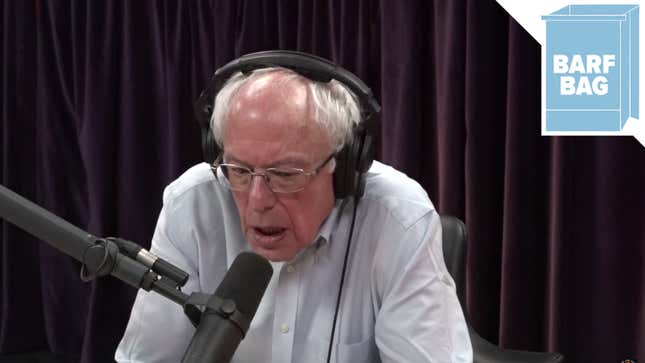 It's raining. Have YOU hugged your anti-umbrella friend today?
Here's all the shit we couldn't cover today:
Bernie Sanders appeared on Joe Rogan's podcast, and the first five minutes are very good—if you need a break from whatever's happening around you and just want your brain to make the sound TVs make when the antenna is broken. It's also good if you want to laugh. Sanders is exceedingly thoughtful here in his depiction of how the media works and how the debates, as they're currently run, are a terrible disservice to the American public. "You shouldn't even call them a debate, what they are is a reality TV show," he says, correctly. Later: "If I yelled and screamed on this show, I took my clothes off, that would get a lot of publicity, right? But you give a thoughtful answer to a complicated question, it's not so sexy for the media." Sanders will never pander to the American people, but he will bring any evidence about aliens that he personally uncovers as president to Rogan's show:

Sanders also could not give a ringing endorsement of Vermont weed:
Here are some tweets the president was allowed to publish:
This has been Barf Bag.