Senator Bernie Sanders will introduce a bill this week that would make four-year public universities in the United States tuition-free. Much like his presidential campaign, it's not going to go anywhere, and, much like his campaign, it's going to prod Hillary Clinton to make affordable higher education a bigger part of her own platform. God bless this crusty, crusty man.
Bloomberg Politics reports that Sanders, the 73-year-old Independent who represents Vermont, will introduce the legislation today. In a statement, he wrote that it's modeled on how many European countries structured higher education:
We live in a highly competitive global economy and, if our economy is to be strong, we need the best-educated work force in the world. That will not happen if, every year, hundreds of thousands of bright young people cannot afford to go to college, and if millions more leave school deeply in debt.

Countries like Germany, Denmark, Sweden and many more are providing free or inexpensive higher education for their young people. They understand how important it is to be investing in their youth. We should be doing the same.

We used to lead the world in the percentage of our people who graduated college. Today we are in 12th place. We used to have great universities tuition free. Today they are unaffordable. I want a more educated workforce. I want everybody to be able to get a higher education regardless of their income.
Clinton has also expressed general concern about the cost of higher education; an aide of hers generated minor excitement earlier this month when he mentioned "debt-free college" in an interview.
Sanders' star continues to rise to the point where people actually know who he is; the New York Times notes that he's become a bit of a star on Facebook, posting "quirky" sayings that he thinks up in the shower and photos of himself, as the Times puts it, "gazing oddly" into the horizon. He told the paper he's a "grumpy old guy," adding he's not one of those people who "talk about their cats" on social media.
G/O Media may get a commission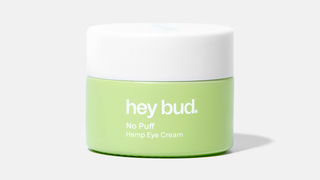 15% off
Hey Bud - No Puff Hemp Eye Cream
Sanders said this morning via Twitter that he'd announce the education bill on Periscope, which he probably also hates.
On Monday, Sanders also urged Clinton to take a position on the Trans-Pacific Partnership, a "free trade" deal that he's previously slammed as a "disaster" for workers. But he also said he's not going to attack Clinton for the sake of attacking her, urging the media to let them have a "serious debate."
"Are you in the media prepared to allow us to engage in that serious debate?" he added, according to CNN. "Or do I have to get media attention by simply making reckless attacks on Hillary Clinton or anybody else? I don't believe in that. I believe in serious debates on serious issues."
Image via AP
---
Contact the author at anna.merlan@jezebel.com.
Public PGP key
PGP fingerprint: 67B5 5767 9D6F 652E 8EFD 76F5 3CF0 DAF2 79E5 1FB6