After weeks of buildup, and 36 days after the Associated Press announced that Clinton had reached the 2,383 delegates needed to become the presumptive nominee, Bernie Sanders has, as expected, gifted Hillary Clinton with a very hoarse endorsement at a campaign rally in Portsmouth, New Hampshire.

Following energetic speeches from activist Bill McKibben, New Hampshire governor and Senate hopeful Maggie Hassan, and Sen. Jeanne Shaheen (who diplomatically yelled, "Go Bernie and go Hillary, right?!" to approving cheers), Sanders and Clinton arrived onstage together with waves and half-smiles. After touting his successes and thanking his supporters and volunteers, Sanders conceded, to boos and cheers, that Clinton "goes into the convention with 389 more pledged delegates than we have, and a lot more superdelegates."
"Secretary Clinton has won the Democratic nominating process, and I congratulate her for that," Sanders said, awkwardly clasping Clinton's shoulder. "She will be the Democratic nominee for president, and I intend to do everything I can to make certain she will be the next President of the United States."
G/O Media may get a commission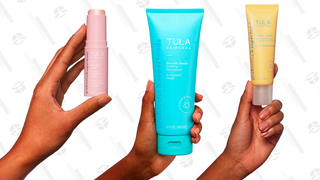 Sanders' endorsement sounded a lot like his other speeches, peppered with forceful declarations on the environment, health care, education, prescription drug costs, fair wages and income inequality but with "Hillary Clinton knows" tacked on at the beginning. He also emphasized the importance of voting in this election, imploring Americans to "take a moment to think about the supreme court justices that Donald Trump will nominate, and what that means for civil liberties, equal rights, and the future of the country."
"I have known Hillary Clinton for 25 years," Sanders' speech concluded. "We were a bit younger then. I remember her as a great first lady who broke precedent in terms of the role the first lady was supposed to play, and as she helped lead the fight to universal health care. I served with her in the U.S. senate, and know her as a fierce advocate for the rights of our children. And I know her, and all of you know her, as one of the most intelligent people that you have ever met. Hillary Clinton will make an outstanding president, and I am proud to stand with her today."
"That was so great," Clinton said quietly afterwards, before launching into her own speech, which she began by thanking Sanders for a "lifetime of fighting injustice." Some Sanders supporters reportedly left in tears as soon as Clinton took the mic, evidently not impressed by the Clinton campaign's special Snapchat filter.
"I can't help but reflect how much more enjoyable this election will be now that we are on the same side!" she exclaimed. "Because you know what? We are stronger together." And later: "We accept $27 donations too, you know."
Clinton's speech included a call for national guidelines on the use of force and implicit bias to prevent "the tragedy of black men, and women and children killed in police incidents"; she also called for automatic voter registration and derided Trump's "voodoo economics." She pointedly thanked "those of you who poured your heart and soul into Senator Sanders' campaign," saying that "our country desperately needs your voices and involvement" in order to claim a Democratic majority in Congress.
Sanders' endorsement, which appears to smother his earlier blustery promise to take the nomination fight all the way to the convention—although he will certainly attend, and continue working to shape the platform, so one could argue that he is still taking a "fight" there—closely follows the Clinton campaign's adoption, somewhat, of key Sanders policies. Clinton's platform now includes a promise of free tuition at state colleges and universities for families making up to $125,000 a year (Sanders originally proposed free tuition for all students at public universities), and supports the creation of a "public-option insurance plan" under Obamacare and a Medicare option for Americans 55 and older (Sanders originally proposed a universal single-payer health care program, dubbed "Medicare-for-all").

The Washington Post reports that the endorsement is "the culmination of a month of aggressive courting by her," which included the two candidates' first and only one-on-one meeting and a dinner between their campaign managers. The Post reports that some members of the Clinton camp are skeptical that this endorsement will produce any lasting sense of unity between the two:
"I'm not convinced he's going to spend most of his time campaigning for Hillary Clinton and articulating her views," said Jim Manley, a longtime Democratic operative and Clinton backer. "I'm concerned he'll continue talking about his views. . . . Hope springs eternal, but I'm not exactly comforted by the actions I've seen over the last few weeks and months. He's been playing Jedi mind games."
Sanders has vigorously criticized presumptive GOP nominee/greasy pizza box Donald Trump for months now, signaling that he has re-prioritized getting a Democrat in office over his proposed "revolution." Here's what Trump has to say about that:
And some of them certainly are:
Yep, here comes Jill Stein!
This post has been updated.

---