BROOKLYN, NEW YORK—At 10:30 a.m. on Saturday morning, the temperature hovered at just a notch above freezing, and several inches of snow covered the ground, but the line to get into Bernie Sander's first campaign rally since he announced he would run for the 2020 Democratic presidential nomination wrapped around the block.

By the entrance, a man had set up a merchandise table and was doing brisk business in Bernie-related gear. Inside on the snow-covered lawn of Brooklyn College, the average age skewing millennial or younger. A girl not much older than 12 walked in carrying a worn copy of the Bernie Sanders Guide to Political Revolution. Some in the crowd clutched ragged signs they had kept from Sanders's 2016 campaign. At one end of the quad, a man and his son had made a snowman in Bernie's image, twigs tracing out a pair of spectacles; in another corner, a dueling snowman was decked out in a Bernie campaign t-shirt.
For all the talk of Bernie Bros and of Sanders's tone-deafness when it comes to race and gender, the the crowd reflected that what was true in 2016 remains the case today: Sanders's appeal is strongest among younger voters. (In the 2016 primaries, Sanders won narrow majorities of black and Latinx voters under 30; 52 percent of black women under 30 voted for Sanders over Clinton in the primaries, according to exit polls from 27 states, and 68 percent of Latina voters under 30 did the same.) Taj Coffey, a slight 19-year-old Brooklyn College student dressed in green Doc Martens, with a brass nose ring glinting between her nostrils, shrugged off concerns that Sanders was too old, too white, his politics too narrowly focused on questions of economics and class. "I'm a female, a feminist, a black woman," she said. Sanders "will protect my rights." Coffey added: "I just feel like Bernie is genuine, you know? He didn't grow up rich."
The location where we were standing, Brooklyn College, was symbolic, and strategic. In a campaign where Sanders has emerged from a crowded field as one of the early frontrunners (gauged by his robust fundraising as well as early opinion polls, his campaign has wagered that to win over a broader base of support this time around, he needs a more personal touch. So Sanders had come home, to the borough where he was born and raised in a rent-controlled apartment, and to the very campus where he began his undergraduate years before transferring to the University of Chicago. But the intended audience was only partly the people who had endured hours of frozen feet to watch him speak. This was a national kick-off, after all. Sanders was also making the case to a wider, more skeptical audience that might be watching from home in 30-second news clips. He had come home to re-introduce himself to the rest of the country.
Jane Sanders was the first to go. Proclaiming that being his wife is "one of the greatest honors of my life," she shared stories about their childhoods in Brooklyn "playing stickball and running races" in their neighborhoods. "We learned about democracy on the streets without adult supervision," she said. "You know Bernie as a senator and a presidential candidate;" he's also a father, a grandfather of seven, and her "best friend."
G/O Media may get a commission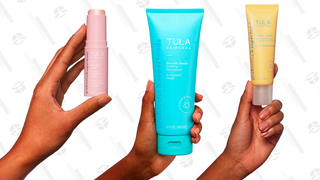 "Today, we're going to understand the man," promised Nina Turner, the former Ohio state senator and now co-chair of Bernie's campaign, before referencing how, at the age of 19, Sanders once chained himself to a black woman activist to fight racial discrimination in Chicago. It's clear the Sanders campaign believes he cannot win the nomination without more support from older black voters, and on Saturday, Turner and his other surrogates brought up his history of civil rights activism. Sanders, the activist Shaun King said, was a "real activist in the civil rights movement in Chicago," the chair of his university's chapter of the Congress of Racial Equality. He had helped lead the first known sit-in for integration at the University of Chicago. He had put himself in front of bulldozers to block the installation of shoddy trailers, known in Chicago derisively as Willis Wagons, meant to segregate black students. "He's been doing it," King said. In front of me, an older South Asian man nodded his head: "Yes, yes."
As Jay-Z and Santigold's "Brooklyn We Go Hard" began playing from the speakers, Sanders came on stage. His stump speech has not changed much since 2016—the need for a wholesale transformation of American political life; for an economy that works for everyone, not just the wealthiest among us; for Medicare for All; for criminal justice reform; for comprehensive immigration reform. "Donald Trump wants to divide us up by the color of our skin, our country of origin, our gender, our religion and our sexual orientation. We are going to do exactly the opposite," he said. "We are going to bring our people together—black, white, Latino, Native American, Asian American, gay and straight, young and old, men and women, native born and immigrant."
There was no mention of the crowded field of candidates for the Democratic Party nomination; Trump was the focus of Sanders's most pointed jabs. After he shared how his father came to the U.S. at the age of 17, "without a nickel in his pocket," in order to "escape the crushing poverty that existed in his community, and to escape widespread anti-Semitism" and how growing up in a family that was on the lower rungs of the middle class showed him the stress of living paycheck to paycheck, Sanders, to the delight of the adoring crowd, gave a preview of what many in the audience hungered to see—Sanders going toe to toe with the current occupant of the White House.
"I did not have a father who gave me millions of dollars to build luxury skyscrapers, casinos and country clubs," he said. "I did not come from a family that gave me a $200,000 allowance every year beginning at the age of three. As I recall, my allowance was 25 cents a week."
"Can you imagine snippets of that on the debate stage?" one man standing next to me said gleefully.
"It was empowering. It was refreshing," Gloria, a middle-aged woman, gushed as she left with her friend. "We can relate to Bernie because Bernie's been in our shoes." Three high school students and friends from the Beacon School in Manhattan told me they'll vote for the first time in 2020. "He's putting out the most drastic and radical changes, which are the most appealing to young people like us," Ronna Margalit said, her friends nodding. They had smiled knowingly at one another throughout Bernie's speech.
Sanders's strengths in 2016 remain the same today—his authenticity, his ardent (sometimes too ardent, at least online) base of grassroots support, his decades-long record of pushing for leftist policies. I suspect he doesn't need a softening of his image or a touching personal story—he needs more voters aligned with his vision of democratic socialism. Polls suggest a lot of the country is already with him on some of that vision, and there's a long primary ahead to figure out the rest. 
As people streamed out the gates, a slew of volunteers, from Sanders's campaign to the Democratic Socialists of America, were on hand to encourage people to sign up, to attend a meeting to push for Medicare for All, to get involved. One young man, a "Berners for Bernie" button pinned to his jacket, squinted at the press badge around my neck, which had Sanders's campaign slogan—"Not me. Us."—printed on it. Almost reverently, he told me: "That's exactly what he said. Not him, but us."