Like most celebrity publications, People relies heavily on the social media posts of famous people for imagery and story ideas. As such, they keep a close eye on most of them. Perhaps its this acute familiarity with the Instagram habits of most famous couples that caused them to be so shocked by Benji Madden's recent post wishing his wife, actress Cameron Diaz, a happy 45th birthday.
Their story, entitled Cameron Diaz Receives Rare Social Media Love Note from Husband Benji Madden on Her 45th Birthday, begins:
The actress celebrated her 45th birthday on Wednesday and received a sweet Instagram dedication from husband Benji Madden, who very rarely posts about their romance on social media. (In fact, the Good Charlotte rocker last shared a shout-out to Diaz in April 2016).
While People would probably claim the tone of this post is celebratory, there's something inarguably condescending about calling out Madden's last post about Diaz. It's as though they don't believe a couple should be taken seriously unless they turn their love into a never-ending performance piece, like Spencer and Heidi Pratt, Chrissy Teigen and John Legend, these two, these two, or these two.
[People]
---
Speaking of People's relationship coverage, isn't it interesting how they shade Benji Madden for not sharing more photos of Cameron Diaz on his feed, but celebrate this British no-name Joe Alwyn for keeping his relationship with Taylor Swift "out of the spotlight"?
"[Swift's] decision to keep her relationship with Joe quiet is making her happy," says the source. "They have been getting to know each other slowly without any pressure."
G/O Media may get a commission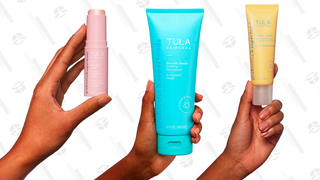 They continue:
The actor also often visits his girlfriend in the States and "is very happy about spending time at home with Taylor," adds the source. "They seem to be on the same page. Joe is getting to know Taylor's parents and everyone likes him. He is very supportive of her work."
Is he, People?! How do you know?!?! I'm not seeing Mr. Alwyn—whoever the hell he is—posting scores of Instagram praising "Look What You Made Me Do"!!!! God, they're so frustrating!!!!!!
[People]

---
The only interesting part of this video is when Kim says, "I just signed up for Twitter!"

---