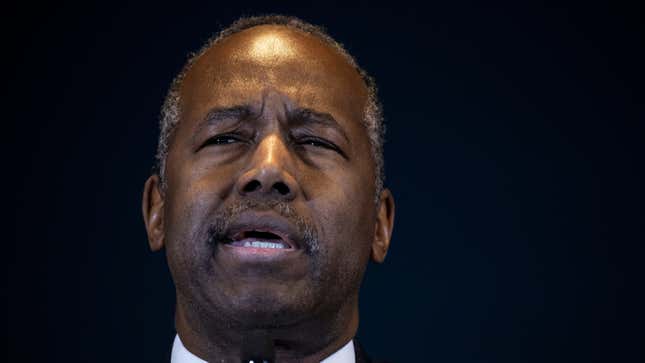 On Tuesday, Department of Housing and Urban Development Secretary Ben Carson told members of Congress that HUD has no plans to end its 2012 rule  outlawing federal housing discrimination on the basis of sexual orientation or gender. "I'm not currently anticipating changing the rule," Carson said. Asked about HUD's treatment of trans people, he replied that his goal is to "make sure everybody is treated fairly."
Well, it turns out Carson either lied, or is so incompetent that he has no idea what the agency he runs is up to. On Wednesday, HUD proposed a new rule that would let federally funded homeless shelters discriminate against trans people by forcing them to share facilities with people of the opposite gender identity or denying them entrance altogether.
Here's more on the rule, via the Washington Post:
The agency published a one-paragraph summary of the proposal, allowing shelters whose facilities are segregated by sex—such as bathrooms, showers, and sleeping quarters—to establish a policy that considers an individual's sex for the purposes of determining admission. The new rule says shelters could consider a range of factors, including "privacy, safety, practical concerns, religious beliefs," when deciding whether or how to accommodate someone.
As BuzzFeed News noted, this new proposal doesn't rescind the 2012 rule per se, but it would allow homeless shelters to skirt its provisions. While Wednesday's announcement of the new rule comes as somewhat of a surprise, given his testimony just the day before, it tracks with comments Carson has made in the past. Last March, when asked about HUD's 2017 decision to remove documents from its website that offered guidance to homeless shelters on how best to serve trans people, Carson had this to say in front of a House subcommittee. Per HuffPost:
"[We] obviously believe in equal rights for everybody, including the LGBT community. But we also believe in equal rights for the women in the shelters, and shelters where there are men and their equal rights," Carson responded. "So we want to look at things that really provide for everybody and doesn't impede the rights of one for the sake of the other. So it's a complex issue."

When Quigley then asked how protecting the rights of transgender homeless individuals would infringe on the rights of others, Carson replied, "I'll give you an example. There were some women who said they were not comfortable with the idea of being in a shelter, being in a shower, and somebody who had a very different anatomy," Carson said.
This change has been pushed by groups like Hands Across the Aisle, the Women's Liberation Front, and the Family Policy Alliance, which drafted a letter to Carson in May 2017 that specifically called for HUD to rescind its protections for trans people in federally funded shelters.
Trans people, and in particular trans people of color, experience high rates of housing insecurity and homelessness. According to the 2015 U.S. Transgender Survey, almost one third of trans Americans have been homeless at some point in their lives, and seven out of ten trans people who ended up staying at a shelter reported experiencing some form of mistreatment, from being physically or sexually assaulted to being kicked out of the shelter for being trans.
HUD's move on Wednesday was widely criticized by advocates. "It completely guts the Equal Access Rule," said Mara Keisling, Executive Director of the National Center for Transgender Equality, to the Washington Post. "The Trump administration is, once again, targeting the most vulnerable trans people by empowering shelters to turn people away and deny them equal access to services."
But it's perfectly in line with the Trump administration's attacks on the rights of trans people.