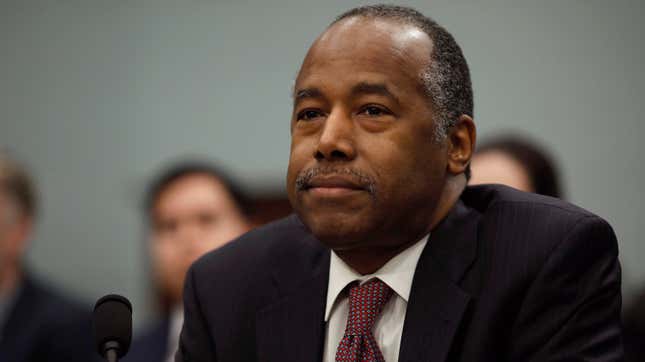 It can often seem like high-level officials in the Trump administration are competing over who can be be the biggest transphobic asshole. While Betsy DeVos appeared to be carrying the title for a time, noted bigot and Department of Housing and Urban Development Secretary Ben Carson is right up there with her. Lest we need a reminder, during a recent internal HUD meeting in San Francisco, Carson described trans women as "big, hairy men" and voiced concerns that they are trying to "infiltrate" women's homeless shelters.
More, from the Washington Post:
Housing and Urban Development Secretary Ben Carson expressed concern about "big, hairy men" trying to infiltrate women's homeless shelters during an internal meeting, according to three people present who interpreted the remarks as an attack on transgender women.

While visiting HUD's San Francisco office this week, Carson also lamented that society no longer seemed to know the difference between men and women, two of the agency staffers said.

Carson's remarks visibly shocked and upset many of the roughly 50 HUD staffers who attended Tuesday's meeting, and prompted at least one woman to walk out in protest, the staffers said.
According to one HUD official who wasn't at the meeting, Carson was merely referring to "men who pretend to be women to gain access to battered women's shelters"—ah yes, the entirely real, not pretend, very widespread demographic of men who pretend to be women to prey on women!—and not using a transphobic slur, which, OK. But also this isn't the first time that Carson has made bigoted comments about trans people during HUD meetings.
"His overall tone is dismissive and joking," one official who has been in meetings with Carson told the Post. "It's disrespectful of the people we are trying to serve."
Carson, of course, has a long history of being an anti-trans bigot. During his presidential run, Carson described trans people as "abnormal" in an interview with a Catholic news outlet. "Boys who say, 'I feel like a girl today, I want to go into the girl's lavatory—that is such a bunch of garbage. If we continue to cater to that, where will it lead? Where will it lead us to be?" Carson said. "I mean, it's beyond ridiculous that you take the most abnormal situation and then you make everyone else conform to it." He then added, "When we start trying to impose the extra rights based on a few people who perhaps are abnormal, where does that lead?"
And as HUD secretary, Carson has consistently rolled back protections for trans people, most notably Obama-era rules that were meant to provide equal access for trans people in federally funded homeless shelters. In 2018, Carson justified HUD's decision to remove anti-discrimination training materials developed to ensure LGBT access to homeless shelters from HUD's website, calling it a response to women who "were not comfortable" being in a shelter with "somebody who had a very different anatomy." He repeated the "different anatomy" line earlier this year when he defended a new rule that would allow federally funded homeless shelters to discriminate against trans people. "There were some women who said they were not comfortable with the idea of being in a shelter, being in a shower, and somebody who had a very different anatomy," Carson said at the time.
"It was pretty demoralizing and mortifying for many of us who work here and are about serving everybody," a staffer told the Post. "A lot of us have questioned the department's rationale on its proposal to strip away the equal access rule. For him to come to San Francisco and say this, it was unbelievable. People were just shell-shocked."