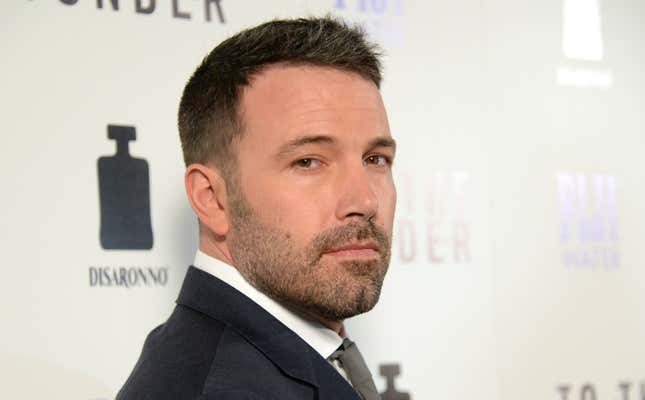 If you get engaged to someone, break off the engagement, get back together almost two decades later, and get engaged again...do you get a second ring?
Taylor Swift's Rep Thinks You Need to Calm Down About Her Private Jet
I think the answer, in general, is "yes," and when it comes to Ben Affleck and Jennifer Lopez, specifically, the answer also seems to be "yes." According to a Page Six exclusive, Affleck was spotted browsing engagement rings at a Tiffany's in Los Angeles on Monday. Affleck reportedly wandered the store with his mother and son, all three of whom walked around with paper and pen in hand—perhaps taking note of each ring's 4Cs?

Affleck first proposed to Lopez in 2002, with a 6.1-carat pink diamond ring—making pink diamonds suddenly seem desirable—while they were visiting Affleck's family in Boston. Lopez later recounted that Affleck had covered the entire house (his family's house!) with a "quilt of rose petals." There were "so many candles, and vases, bouquets," Lopez later told Diane Sawyer in an interview. "And my song 'Glad' was playing ... I walk in, and I was just overwhelmed. I wasn't expecting it, and I was just like 'Oh my God.'"
Though they were supposed to get married in 2003, the two postponed the wedding because of "excessive media attention," Page Six reports, before eventually breaking up the year after.
Considering that I'm writing a blog post about Affleck merely entering a Tiffany's store, it seems like "excessive media attention" might be inevitable this time around, too. On the other hand, blaming the media is a great excuse for getting out of a marriage that neither party desires. Plus, it's obvious that Affleck and Lopez are both more than happy to play right to the paparazzi. If they weren't, they wouldn't be recreating a scene from Lopez's 2002 "Jenny from the Block" on a yacht, for example.