Today, singer Vera Lynn—who was incredibly popular in wartime Britain, with bittersweet hits like "We'll Meet Again" and "(There'll be Bluebirds Over) The White Cliffs of Dover"—turns 100.

"When I look on my mantelpiece and see these cards wishing me a happy 100th birthday, I can't believe it," she told BBC 2 Radio. "But there you are, time marches on and this is what I have on my mantelpiece to remind me how old I am."
Lynn was born in working class East London in 1917 and began singing as a child, she told the Mirror. It was a job that brought much-needed money into the family.
DV recalls: "I first sang on a table in a working men's club when I was five or six. I had a dress on, and my dolly was wearing a matching one. I sang Glad Rag Doll, with actions."

In those early years she didn't like performing, but it was a way for the family to boost the household income.
She adds: "There were weekends when I could almost make in two nights what my father made in a week."
She told the BBC in 1999 that, when she heard Britain had entered the war, "The first thing I thought of was 'Oh well, bang goes my career. … I shall be either in the army or in a factory, doing something like that.'" Instead, it secured her an unparalleled place in the nation's memory. The Washington Post explains:
To fully fathom the meaning of Vera Lynn to the British, you have to picture a British soldier, in the depths of Britain's despair at the outset of World War II, hunkered down somewhere in North Africa, wondering how, if ever, it would end and whether, if ever, he'd get home.

"We were very lucky," said one such soldier, William Pitcher, in a 1996 oral history. "All the war, even the worst of times, we had a good short wave radio system. In fact, I can remember it was desert, we'd, in the nighttime, on Saturday nights when Vera Lynn come on we'd get the radio off the truck and we'd cover ourselves up with tarp and turn it on. And we'd listen to Vera sing to the troops on a Friday night, on the radio."
G/O Media may get a commission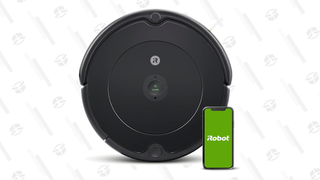 35% Off Black Friday Deal
iRobot Roomba 694 Robot Vacuum
"We'll Meet Again" is particularly tearjerking when you consider its wartime context: "We'll meet again, Don't know where, don't know when, But I know we'll meet again, some sunny day."
To mark her birthday, her record label is projecting her face on the side of the White Cliffs of Dover. It's not purely a celebratory gesture—it's also pegged to the release of a compilation album. Because apparently this woman is truly indefatigable. The Post, in fact, notes that she released an album as recently as 2014, becoming the oldest person ever to make it onto a the top 20 charts in the UK.
BBC 2 Radio asked Lynn for advice on aging; the centenarian suggested, "Be active to your full capabilities. Keep interested, read books, watch television and try to keep in touch with life and what people are doing, seeing and enjoying."