You read that headline right: Bella Thorne's #spon-spawned, violet-painted house is home to 19 cats. This is one of the several interesting facts included in a Los Angeles Times profile of the actor/singer/person on Instagram. Why does Bella Thorne have so many cats? How does she do it? What's her secret formula? It's something like misguided compassion plus the hyperactive feline reproductive system. Similar to violence, you see, cats beget more cats.
Says the piece:
She didn't want her first cat, Lola, to be spayed because she thought it was barbaric, and now there are four generations of cats living here: Nuzzling against your knee, crawling up the screen windows, tearing down metallic streamers.
Let's crunch some numbers (pulls out calculator, mashes front and back of hand against it repeatedly): By my calculation, Bella Thorne, 21, will have five million cats by the time she is 30. She'll probably learn a thing or two about barbarism in the time until then.
With its tongue-in-cheek headline ("At 21, Bella Thorne has 4 movies out, 18 million Instagram followers, 19 cats and the will to survive") and vivid reporting, the profile is an excellent piece of writing from an excellent writer, Amy Kaufman. I encourage you to read it in full, but in case you're busy at the moment tending to your own cat colony and don't have time to read thousands of words about... Bella Thorne, I've highlighted some other included facts below.
G/O Media may get a commission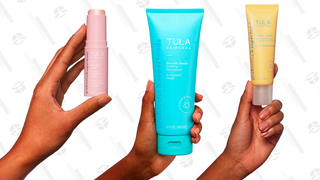 "She puts down the blunt she has been smoking and picks up a pencil, dotting beauty marks onto her face. This is one of the ways she deals with her acne, she explains — highlighting her freckles to distract from the blemishes on her face."
"Her shower is covered with a wall of faux ivy, and inspirational notes she's written to herself hang from the ceiling: 'Follow your instincts, Bella.'; 'Your worst mistake is your best advice.'"
"Her boyfriend, Mod Sun, is a heavily tattooed 'hippy hop' star who has been known to serenade Thorne's vagina during his concerts."
This is what Mod Sun looks like:
When she was 13 and a Disney star, she was photographed on the beach in a bikini and shamed by Perez Hilton on his blog. As a result, Thorne says, Disney tried to fire her. A Disney spokesperson denied this allegation to the times, but did say: "[W]e discussed with the Thornes how they envisioned Bella's personal brand image and career goals and whether, at age 13, her immediate plans were compatible with a Disney-branded show for viewers as young as age 6."
She's really candid about being sexually abused as a child. This profile really takes a turn!
She alleges Freeform, the network on which her recently canceled show Famous in Love ran, called her "ugly...in e-mails." She continues: "...And there was another thing that was in front of everyone on set. After, the cast was texting me, 'Oh, my God, Bella. I am so sorry. That was so awkward. I feel so bad. Do you want me to come over to your room?' 'Oh, my God, I can't believe they did that.' It was all supposed to change on Season 2, and it didn't."
Bella Thorne actually contains multitudes. Come for the ridiculous scenery, stay for the revelation of humanity.