For the 20th anniversary of Sex and the City—which premiered on HBO on June 6, 1998 and went on to become iconic prestige television—Jezebel is doing a week of posts dedicated to our favorite band of sexual women friends.

Sex and the City, in all its glamour and perpetuity and overwhelming New York City-philia, doesn't actually have to be experienced to be enjoyed. At the very least, you don't have to be a superfan to have Carrie Bradshaw and the girls leave an imprint on your pop culture memory bank—I've only seen a few episodes of the landmark series in my lifetime, but I've always appreciated the impact. You can know shit-all about the show, but if you're out to brunch in any mid-to-massive city (or drinking at an airport bar at a questionable hour, or experiencing any other rare moment of decadence in an otherwise mundane existence) and you happen to hear a human exclaim, "I'm such a Samantha," inspiring a gaggle of gals to correct them with freewheeling "Miranda!" and "Charlotte!" exclamations, you know exactly what they're talking about (okay, that scenario rarely happens, but you get it). And it's likely that you'd have a very strong opinion about it.
As you should. (If you find yourself in one of these situations, I recommend answering as you would if someone asked you for your astrological sign: I'm a Samantha sun, Charlotte rising.) That Sex and the City was able to resonate on a level that has fans finding identity and contention with it 20 years after its initial airdate is nothing short of impressive. That its late-in-life prequel, The Carrie Diaries, will not—the show only lasted two seasons, from 2013-2014 compared to the original program's six, from 1998-2004—is not surprising. I'm here to tell you, however, that's kind of a bummer.
The CW teen-dream of a show sought to show us a young Carrie before the sex, before the city and certainly before there was a sex life to be had in the city. The series was cancelled well before its prime, but in its short shelf life managed to accomplish two near-impossible goals: it stayed true to Sex and the City canon (at least, the hits), and for a young adult audience that might not have cared about the sex-positive program that laid the foundation for it, and for decades of programming since, it was damn entertaining.
G/O Media may get a commission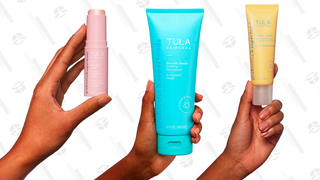 Without New York, there would be no Sex and the City—and without New York, there would be no Carrie Diaries, a fertile foundation in which 16-year-old Carrie Bradshaw, from the affluent burb of Castlebury, Connecticut, laid all her ambition. On the teen soap, set in 1984, declarations of love for NYC are uttered constantly, without compromise or realism—the same you could expect from any teen girl hoping to leave her tiny town to become a fabulous writer in Manhattan, a favorite trope in both edgy teen programming and romcoms.
The teen Bradshaw's desire to simply be in New York City lands her a lackluster internship at her father's law firm, but fate has other plans. After a run in her tights is deemed unacceptable by her supervisor, Carrie skips to a nearby Century 21, where she's stopped by the fabulous Larissa Loughlin, a fashion editor at Interview. LL admires Carrie's DIY purse (a beloved bag from her late mother, who died of cancer a few months prior, it's accented with neon paint splotches and Carrie's name) and invites our teen protagonist to party with her.
Eventually, this relationship leads to an internship at Interview, and Bradshaw's dreams realized, sort of. Drama ensues: Carrie lies about her age, which is a milestone for any teen talent attempting to make it in the media game far too young—not speaking from experience or anything—and dates a few gorgeous boys, of course, but only one who is age-appropriate. (Unlike SATC, or maybe exactly like it, she views relationships as experiential, allowing herself to love and not be used. Precocious and self-assured doesn't even begin to describe it.)
Carrie manages to score a scandalous mention in Page Six before she can legally vote, attends an afterparty for Madonna's Virgin Tour while delighting all those around her with unbridled optimism and a penchant for tulle, much like her future SATC self. Still, none of these larger-than-life moments are presented as such—she's bewildered by the spaces she's able to infiltrate, the very same that become everyday reality in the flagship show. There's something charming about watching her navigate luxurious spaces, unsure of what will come next, made pragmatic in less-than-luxurious moments when she questions her talent and future. That's the real real shit.
And if that's not enough for you, the show's winks at the original SATC are intriguing enough. Carrie's Manolo Blahnik obsession begins on the first day of her Interview internship when she's the only staffer with feet small enough to model pumps the brand sent along for review. In Season 2, she goes to a popular downtown rocker bar (very obviously CBGB's, a young Ric Ocasek of The Cars is said to be present) after having her infamous Carrie purse stolen, where she meets a bouncer, the still grimy, not-yet-a-publicist Samantha Jones, and they hit it off immediately despite the age difference. (There's no sign of Charlotte and Miranda yet. They arrive much later in the Bradshaw narrative.)
If the Carrie Diaries has a failing, it's in its portrayal of the '80s. Outfits are hybrid takes on the past decade with modern flair, making them often unbelievable, and in one scene, at a radio-sanctioned music festival, radio rock band American Authors perform, a modern act best known for their inescapable 2013 single "Best Day of My Life." On the show, they bust out key-tars to reference '80s pop music, but you ain't foolin' me! The break from form isn't particularly distracting, unless you've got an eye out for accuracy, and if that's your vibe, the CW probably isn't your bag in the first place.
In an episode nearish the middle of Season 1, when Carrie narrates her life in classic SATC form, she quotes the Devo song, "Freedom of Choice" (in case you forgot this is supposed to be the '80s) with: "Freedom of choice is what we want. Freedom from choice is what we need," when posed with the decision to leave the internship at her dad's firm and head to Interview. It's absolutely outlandish and unnecessary, delightful and honest, the way adult Carrie Bradshaw's relationship writing often was on Sex and the City. It's highly unlikely that The Carrie Diaries will find itself the topic of nostalgic revisionist writing or cultish appreciation, but the show was a time capsule worth a view, if only to imagine the woman as she was before.