Hello hello and good morning! The VMAs were a mess, as usual, but the red carpet was somewhat—SOMEWHAT—more subdued. Let's dive in.
Taylor Swift brought her Girl Squad™ in lieu of a date, because female friendships are the best, especially when you can force everyone to color coordinate! Seriously, though, I do not think it was an accident that we have here an assortment of rich fall hues and understated patterns.
From Taylor's model friends, we have Karlie Kloss in a simple orange Louis Vuitton Resort getup that would look absolutely hideous on anyone else; Cara Delevingne in a Saint Laurent minidress that's kind of underwhelming, Lily Aldridge in a very model-y model black va-voom whatever, and Gigi Hadid in a gorgeous yellow diaper and 100 lbs. of bronzer. (I actually am digging it.)
G/O Media may get a commission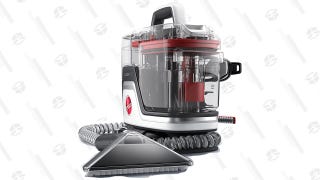 Save $10
Hoover CleanSlate Plus Carpet & Upholstery Cleaner
As for Taylor's non-model friends, we have actress/confident masturbator Hailee Steinfeld in a truly gorgeous Stella McCartney jumpsuit and choker, Selena Gomez in a less successful and frankly unflattering black Calvin Klein dress, and Taylor Herself in a very good Ashish sequin houndstooth two-piece.
Oof. Okay, Rebel Wilson looks like she got a do-it-yourself sewing pattern from Hot Topic, Chanel West Coast is dealing with some kind of baroque applique situation, and Rita Ora is in a GOWN by VERA WANG at the MTV VIDEO MUSIC AWARDS, this happens EVERY SINGLE YEAR, someone NEEDS to tell her to chill out.
Blac Chyna, Amber Rose & pals put some mean words on their outfits.
Violet Chachki looks lame as hell LIKE ALWAYS (Ginger Ming 4ever); honestly I am not surprised by Miley's assless custom Versace look and I don't... hate it, really, she's doing like a naked Zenon Girl of the 21st Century thing and why not? And of course, Baddie Winkle takes the cake in sneaks, a Discount Universe dress that doesn't appear to fit, and a pink fur coat.
I like FKA Twigs' Atelier Versace look, mostly, but the too-light breastplate is pretty distracting. Nicki Minaj looks great, but probably could have done better; Ciara's shredded look is my favorite of the three—it's a messy kind of sexy, perfect for the venue.
As for the Kardashians, nothing too surprising: Kylie Jenner in a 100% wig and crotch-revealing Balmain that's very Kim 2012; Kim and Kanye are relatively subdued in their respective outfits—Kim's dress looks alternately great and terrible depending on the angle; and Kourtney's outfit would work a lot better if she had a curly 'do.
Wale repurposed his boy scout vest; I do not understand if Justin Bieber's outfit and hair was some kind of joke but he literally looks like a cool mom at a pumpkin patch; Nick Jonas looks typically horrendous in head-to-toe leather Versace—can you imagine how much he squeaked with every move?—and Miguel is still doing that sexy undone Liberace look.
Halsey is an understated vision in this chesty jumpsuit; Kelly Osbourne is trying a loose pinstripe look and I'm not hating it; Demi is way, way too structured and Kardashian'd in this shiny skintight pink mini—different shoes might have saved it.
It kind of looks like Aubrey O'Day made this herself out of duct tape and crushed dreams; Tinashe is in vintage Alaia and Dior boots, which sounds a lot better than it looks; Rebecca Black is Grown and Sexy and Bored and Tired in this low-cut sparkly getup.
Our girl Jojo is doing a superhero thing, which would have been perfect with just a tiny bit more fabric; Brit Brit, bless her, is trying SO hard to appear rock-n-roll whimsical but she kind of just looks like she's accepting an award at a gymnastics competition; Emily Ratajkowski looks basically fine in Altuzarra but those boots are perhaps overkill.
Behold, the gals of Fifth Harmony, all rocking bedazzled mini-dresses from the Juniors section at Dillard's:
Gabourey Sidibe is working with a color combination that I personally do not like, but it's flattering as hell and she looks happy so whatever! Maria Menounos is looking particularly blah, although her hair is cute–"Should I do a bun, you guys?! Wouldn't that be crazy?"—and Vanessa Hudgens is giving great face but this ethereal bullshit is going nowhere.
Pharrell and Helen Lasichanh are doing their cute couple-y thing in a pair of Canadian tuxedos; Holland Roden's sheer Vivienne Tam getup is actually great and I'm loving the footwear; Chrissy Teigen is semi-naked—AKA perfectly on-point for this event—in Marchesa.
And that's about it, folks! I leave you with this close-up shot of the back of Chrissy Teigen's head—a metaphor, perhaps, for our tangled... nope, nevermind, bye:
---
Contact the author at ellie@jezebel.com.
Images via Getty.