Like me, you probably have no definitive recollection of the movies Friends with Benefits, which starred Mila Kunis and Justin Timberlake, or the Ashton Kutcher and Natalie Portman vehicle No Strings Attached, other than the fact that they were more or less variations of the same movie and that they attempted to answer questions about men, women, and sex that Nora Ephron did a lot better a few decades ago. But for the now-married Kutcher and Kunis, these squarely forgettable movies served as the blueprints to their own path to romance. How fortunate for them.
Ana Gasteyer Satirizes the Girl Boss in 'American Auto'
In an interview with Howard Stern on his SiriusXM radio show earlier this week, Kunis dished to the shock jock about how she and her former That 70's Show co-star grew some carnal feels before they sprouted feeling feels for each other, all the while alluding to their (apparently) prophetic films.
As per Kunis, shortly after respectively dating a man who now sings in a pizza-themed Velvet Underground cover band and marrying woman whose character in St. Elmo's Fire became my de facto D.A.R.E. program, Mila and Ashton thumped their sex-bang parts together one night after the latter attempted to hook the former up with one of his bros. But when Kunis arrived with one of her friends, Kutcher was seized with a rom-com-like wave of territorialism (which was probably accompanied by some of the sweet sounds of Savage Garden, because this is my imagination, okay?), and a Butterfly Effect sequel was born.
"Long story short—I didn't leave [Kutcher's residence] till the next morning," Kunis told Stern. "And that was the first time, ever, that I'd ever slept over when I was single…at a guy's house."
G/O Media may get a commission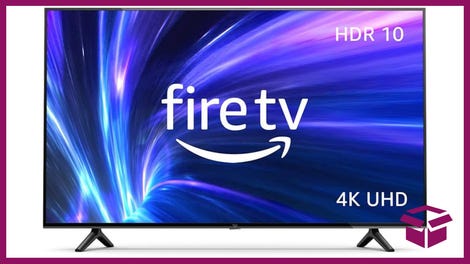 42% Off
Amazon Fire TV 50" 4K Smart TV
Despite attempts to keep their relationship casual, emotions apparently happened, as they do. The pair eventually became exclusive, marrying in July 2015
"If we just paid attention to these movies [No Strings Attached and Friends with Benefits], we should know that s—t like this does not work out in real life," added Kunis, "Well, we clearly didn't pay attention."
Cool, I'm gonna go drink a six-pack and perpetually swipe left on Tinder while watching The First Wives Club, as us lesser mortals do.
---
Tom Sizemore, an actor whose face and repertoire I have consistently forgotten for over almost three decades, has been arrested on the grounds of domestic violence for assaulting his girlfriend.
According to TMZ, authorities detained the performer, who was apparently a semi-important character in Saving Private Ryan, on suspicion of felony domestic violence on Tuesday. Officers were alerted of a disturbance after receiving a number of calls from an unnamed dialer about a woman screaming.
When police arrived at the scene, they found Sizemore and his girlfriend, who told the respondents that the actor had hit her in the head and face after the couple had gotten in an argument.
Unsurprisingly, this is far from the first time Sizemore has had a run in with the law: the actor spent six months in jail after he was found guilty of assault and battery against his then-girlfriend Heidi Fleiss in 2003, and was incarcerated for nine months in 2007 for possession of methamphetamine.
As of now, Sizemore has a bail set for $50,000, and his representatives have not commented on the matter.
[TMZ]
---
---
Image via Getty.