There's one area of living that the tech giants can't take from us and it's our precious beauty salons.
A new WWD report digs into the reasons investors and developers have been slow to make money with in-home and "concierge beauty" services like Priv, Vive and Vênsette—all of which are foreign to me—in part, because customers still want the experience of traditional shops. A once promising trend has thus turned out to be largely a dud so far:
Early on, venture capitalists jumped on a handful of native-to-mobile on-demand beauty start-ups that allowed for a range of services to be performed in a client's home at the push of a button. "Low overhead" and "services in the comfort of your home" were among the terms thrown around at the onset of the craze — perceived upsides of a beauty service provider living solely online.
"People are lazy" was the thinking.
But companies from Bonobos to Bauble Bar soon found that obstacles — brand awareness and customer acquisition costs, among them — made an off-line presence necessary, if not mandatory.
G/O Media may get a commission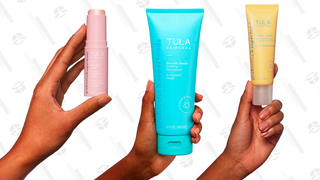 Despite the apparent convenience of an on-demand service, there are a number of factors at play, and a major one is pricing. There's no benefit to a digital service that costs more than simply booking an appointment at your neighborhood salon. WWD notes, as an exception, the popular service Glamsquad, which offers flat fees (i.e. $50 for a blowout). Even so:
Vênsette's $100 blowouts were too expensive for most customers — but Glamsquad undercutting brick-and-mortar competitor prices to build a customer base isn't sustainable either.
Labor costs and logistics for beauty businesses tend to reduce the chances of long-term success in the online "space." So these digital services have found it difficult to land and retain customers, especially in comparison to other on-demand industries like Uber and Lyft. WWD notes:
The difference, though, is that users don't care who their Uber driver is; they do, however, care about who is styling their hair or applying their makeup.

"It's a very personal relationship… and if there's a desire to repeat with a specific service provider, should you like them, you can't. With a Glamsquad, you don't understand who you're getting [to style your hair], and if you like the person it's really easy to establish a relationship and offer to pay them off platform," [investor Clara] Sieg said.
Any frequent salon visitor knows the struggle of salon-hopping to find a reliable stylist who truly "gets" your hair. This was especially challenging for me years ago when I moved out of my mom's house to an apartment in Astoria, Queens, where I couldn't find a local salon that specialized or even understood black hair textures. I wound up getting regular perms at a Brazilian spot, which was fine but not the same, and then I went natural.
Predictably, there's underdevelopment in the online beauty concierge "space" for black customers. Debra Shigley, founder of the in-home salon app Colour, based in Atlanta, tells WWD, "The black hair discussion is so complex, we're still so many leaps and bounds away for many investors understanding it. This is something that's a chore in women of color's lives and a problem that's existed for centuries and it's not going away. There's frankly been no innovation here whatsoever."

Last year, I discovered an app called Swivel (this is not an endorsement) and used it to book a hair-braiding appointment—the stylist was amazing, but I have not used the app since. Instead, I can just text my hair-braider to see me. I also still have yet to find a reliable salon and stylist for my natural hair. I'd love if a hair stylist would just come to me, but first I would need a large sink and, also, space and to know that person won't ruin my hair.
Investors in the concierge startups are hopeful that customers will come. The WWD piece notes that these online services typically have to sell beauty products in conjunction to earn revenue. Marta Plana Cros, founder of The Ritualist, suggests that on-demand beauty might merely serve as a supplement to traditional services, which sounds about right:
"That's not the case. On-demand services are complementary to traditional treatments. On-demand is usually better in terms of convenience — you're at home, relaxed — while traditional locations deliver a more sophisticated experience," Plana Cros said.
Physical beauty salons are still the wave. When you find a good one, you hold onto it. Teyana Taylor revealed plans to open one of her own, a '90s-themed nail salon in Harlem called Junie Bee Nails. "I want to continue to create great opportunities for my community and our talented youth!!" she wrote on Instagram. "The vision is crazy! I'm talking everything from Dapper Dan style Uni's, to Door Knockers, Bamboo earrings, baby hairs, Airbrushed nails, 54'11's and all that other fly shit!"