GoldieBlox and the Beastie Boys have ended their legal dispute over copyright infringement with a secret settlement. The financial sum has not been disclosed, but I'm assuming GoldieBlox has to pay the Beasties and promise not to sample their work again. Here's hoping the start-up toy company can withstand this blow to their books and keep producing engineering playthings for young girls.
If you're wondering what I'm talking about, here's the backstory:
Two years ago, the world was introduced to GoldieBlox, an engineering toy made for girls, created by Stanford engineer Debbie Sterling. In 2013, the company made a fantastic commercial featuring three little girls ditching a princess commercial to build things while singing a remix of the Beastie Boys' song "Girls." Then the lawsuits began flying.
In November 2013, GoldieBlox took the Beastie Boys to court to claim fair use of their song as a remix. The band counter-sued, claiming copyright and trademark infringement, writes the Hollywood Reporter. The Beasties, who are notoriously against their work being used in commercials, actually aren't the only artists GoldieBlox has used in their viral and television ad campaign, Queen, Daft Punk, Kaskade, Krewella, Avicii, Slam, k.flay and Trevor Guthrie have also been soundtracks. A remix of Quiet Riot's "Cum On Feel The Noize" was used for GoldieBlox's 2014 SuperBowl ad, above.
In December, the two remaining Beasties wrote an open letter in the New York Times, probably because they realized how attempting to crush a feminist toy company looked publicly, and said, "Hey, your toy is awesome … but we're not into our music being used for advertisements. Ever." GoldieBlox responded with a sad open letter of their own and removed the "Girls" remix from their ad.
G/O Media may get a commission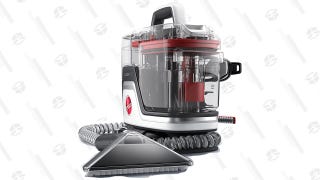 Save $10
Hoover CleanSlate Plus Carpet & Upholstery Cleaner
The dispute brought up an interesting point in the music business: What are the boundaries of fair use? We'll just have to see as more situations like this emerge — a similar but much larger case between Viacom and Google was resolved today with another secret settlement — but it's sure to be curious and no doubt expensive for all parties involved.