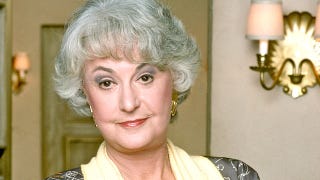 Despite the fact that Dorothy Zbornak was often found hunched over a slice of cheesecake in Golden Girls episodes, in real life, Bea Arthur was health-conscious and vegetarian. In the just-relesed The Dead Celebrity Cookbook by Frank DeCaro, he details Bea's eating habits in a chapter aptly titled, "Thank You For Feeding A Friend." The following excerpt is Bea's favorite recipe for mornings and brunch:
Bea Arthur's Vegetarian Breakfast
(Serves 2)

• 1 tablespoon margarine
• 2 medium tomatoes, sliced
• ¾ cup chopped fresh mushrooms
• Salt and pepper, to taste
• 4 slices bread, toasted

Preheat oven to 250.
Melt the margarine in a small sauté pan over medium heat.
Add the tomatoes and mushrooms, and sauté until soft, about 4 minutes.
Season to taste with salt and pepper.
Put some tomato-mushroom mixture on each piece of toast.
Heat in the oven for 2 minutes before serving.
And that, my friends, was Bea Arthur's preferred way to start her day, every day.
[The Dead Celebrity Cookbook via People]
Earlier:
What Elizabeth Taylor Ate On A Typical Day, Circa 1960