Thirteen-year-old Jillian Schnerch is going viral with a Halloween costume that the internet seems to find hilarious: Tired Mom. In a photo of the homemade costume, she's shown with dark under-eye circles and Cheerios in her messy top knot. There's a baby doll in her arm, and another one attached to her leg.
Other accessories include: a spit-up rag, pacifier, stray diaper, and Starbucks coffee. There's also a plastic Target bag slung over her forearm with a bottle of wine in it.
Her parents, who live in Rio Rancho, New Mexico, posted a shot of the costume to Facebook on Friday. The post has since been shared over 65,000 times and garnered over 9,000 comments. Some of those comments include things like: "That's what I look like today! And yesterday. And, well, every day since 2015. NAILED IT!" and "Perfect costume!!! What did she use for the spit up??"

I stumbled across this story on my iPhone at 5:30 a.m. this morning while in bed feeding my baby. IT DID NOT SEEM THAT FUNNY AT THE TIME. A few hours later, I can tell you: IT STILL DOES NOT SEEM THAT FUNNY.

That is especially so after doing a little spin around the internet and discovering that this is most certainly not the first-ever Tired Mom costume. It is actually something of a thing? In fact, a Goodwill in Minnesota put together a photo album of Halloween costume ideas, including one of a woman with multiple baby dolls attached to her limbs. The page enthuses, "The harried, busy mom is a classic Goodwill costume that anyone can create!"
G/O Media may get a commission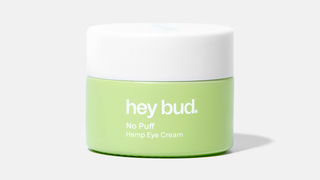 15% off
Hey Bud - No Puff Hemp Eye Cream
That is to say nothing of "mombie" costumes, in which you dress up like a mom zombie, which seems to necessitate scary makeup and a tattered bathrobe. Hair curlers optional. A team of women recreated the music video for "Thriller" while dressed as mombies. Women have dressed up as mombies to raise money for breast cancer research, naturally. There are even mombie makeup tutorials on YouTube.
Here is when Tired Mom and Mombie costumes will be funny: when Tired Father and Undead Dad costumes exists with any degree of cultural resonance. Currently, the top Google search result for "dad costume Halloween" leads to Amazon.com, where one can purchase an Adult Men's Vintage Dad Halloween Costume. Said costume consists of a sweater, tie, slacks—and a pipe and newspaper. A newspaper! Because that motherfucker has all the goddamned time in the world to kick up his feet and read about the world's happenings.
On the other end of the spectrum, there is the Super Dad Costume sold by Target, complete with multiple false arms holding: a basketball, remote control, barbell, stack of money, hammer, and cellphone. Now, there is a Super Mom Costume, but it comes with a shopping list, credit card, pot of coffee, iron, whisk, and cellphone. Nothing to see here, all is perfectly well in our world.