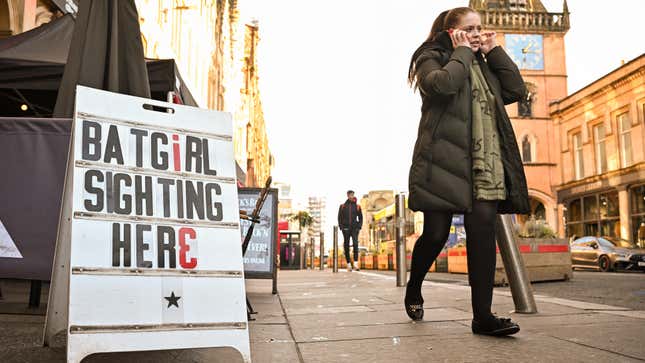 So was DC Comics' Batgirl shelved because it was too horrendous for human consumption, or because **something something something related to theaters and the pandemic**? According to new interviews with new co-chairman and CEO Peter Safran, it was very much the former, and you should feel lucky that you didn't have to watch it.
"I saw the movie, and there are a lot of incredibly talented people in front of and behind the camera on that film. But that film was not releasable, and it happens sometimes," Safran told industry reporters on Monday. "That film was not releasable."
What an incredible thing to hear about a finished product that a studio spent $90 million on. Warner Bros. pulled the plug on Batgirl, which starred Leslie Grace as Barbara Gordon (aka Batgirl), last August. When the news came out, insiders told Variety that it was actually a fine movie.
Here is Variety's Adam B. Vary on the movie's axing at the time:
"Studio insiders insist the decision to axe 'Batgirl' was not driven by the quality of the film or the commitment of the filmmakers, but by the desire for the studio's slate of DC features to be at a blockbuster scale. 'Batgirl' was budgeted to screen in homes on HBO Max, and not for a major global release in theaters."
But that same month, the New York Post reported that the movie was, in fact, "irredeemable." Now that the shakeups at DC Comics and its overlord, Warner Bros., are done, it looks like the studio heads are fine spelling it out.
"I actually think that [CEO of Warner Bros. Discovery David] Zaslav and the team made a very bold and courageous decision to cancel it because it would have hurt DC. It would have hurt those people involved," Safran told reporters.
Apparently the people who worked on the film will be working with DC Studios in the future. "Some people are already back in business with us. As I said, a lot of talented people were involved, but the film just was not releasable," Safran said. "It would not have been able to compete in the theatrical marketplace; it was built for the small screen. So, again, I think it was not an easy decision, but they made the right decision by shelving it."

So, there you have it: The movie was apparently so bad it could not dare be streamed, even on a streamer like HBO Max that aired FBoy Island.