Voicemails should be dead, but your mom is still leaving you long-winded one-sided conversations — and you probably listen because you love her. But as times moves on, leaving a voicemail isn't just passé, it's becoming a lost art for millennials.
People have grown so dependent on written messages in the interest of time that just listening to a voicemail these days makes you feel like you've got moss growing out of your ears. But the kicker is, now leaving voicemail messages give millennials heart palpitations because they view it as public speaking, according to the New York Times. In a way, it is, especially if you're leaving a message for someone you're dating or need to impress. Your words will most likely be analyzed and passed around to friends — or HR — for further analysis, but the same thing would happen with a text or an email so what's the difference? The voice component. Unlike texts, it's easy to glean emotion from a person's voice and any mistakes or mispronunciations are impossible to erase.
Now, leaving voicemails is such a lost skill that the Etiquette School of New York is training millennials on how to leave telephone messages. This is not a joke.
"It's kind of awkward to leave voice mails now," said Chris Paul, 22, a recent graduate of Duquesne University. "The expectation is that we send each other text messages, and if you wanted to talk to someone, you'd answer their calls."

When he is forced to record his voice, he is a little anxious. "If it's in a professional setting," he said. "I've worked for a few political campaigns, and we're not allowed to text. It's a little nerve-racking."
Talking to someone in real life, sort of? The horror.
I don't love leaving or receiving voicemails, unless it's from my mother or someone else close to me, because it's a time suck. Just text or email me what you want, I can respond in kind and move on. Fortunately, my disdain for voicemails is becoming a universal trend thanks to millennial fear so for those of you who can't master the voicemail, don't worry — just send a text.
G/O Media may get a commission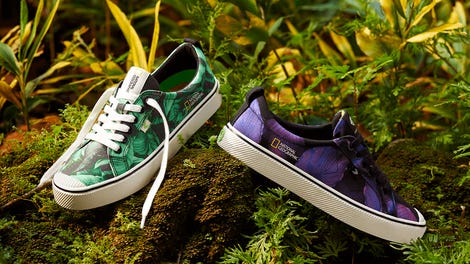 New New New
Cariuma + National Geographic
CREATISTA/Shutterstock.