Everyone's been desperate for another glimpse of Stranger Things icon Barb, and though she is almost definitely gone for good, the actress who played her, Shannon Purser, still lives.
On Thursday's episode of Riverdale, Purser took on the role of yet another awkward nerd, Miss Ethel Muggs. Ethel is a character from the original Archie comic canon, best known for trying to break into Jughead's asexual heart with lots of home cooking. The series is not planning to let Jughead continue as the rare representative for the asexual community, so there's a chance Muggs may still get jugged before being meeting a dark end.
Purser is slated for three episodes this season, according to IMDB, and the last one is titled "Faster, Pussycats! Kill Kill!" which can't be good, right? In Thursday's ep, she's one of several girls who join Veronica in a fight for justice after being slut-shamed by Chuck Clayton. In the comics, Clayton is an aspiring cartoonist, in the show he is a jock who harasses women. Cha-cha-cha-changes! After the girls get him to confess to his misdeeds on tape, the ensuing fervor leads to the social media call #JusticeForEthel. Wink wink.
In an interview with Refinery 29, Purser admits she has no idea what justice will entail on either Riverdale or Stranger Things, but she's excited to find out:
"I'm so excited for season 2 of Stranger Things!! The show is always going to hold a special place in my heart and I feel so lucky to have been a part of it! I'm so happy to hear that there will be justice for Barb, but I know about as much about what that means as you do! I guess we'll just have to wait! I know I'll definitely be watching."
G/O Media may get a commission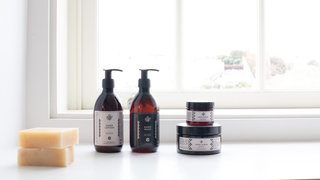 Exfoliate and Hydrate
The Handmade Soap Company
Isn't TV great? Even when your fav stars get killed by monsters, you might find them in the upside down of the CW network.