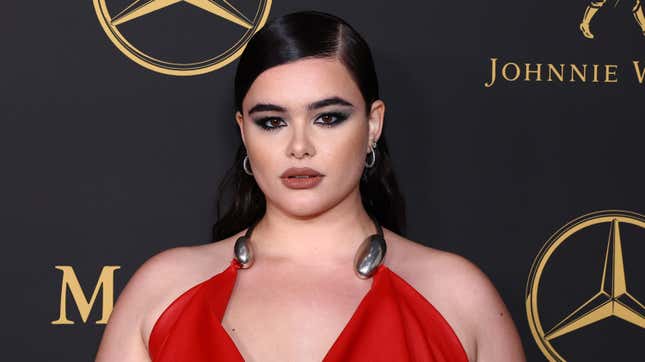 Barbie Ferreira's announced exit from Euphoria last year left the show's sprawling fandom disappointed, but not exactly shocked. Her departure came amid months of rumors about a fall-out with director Sam Levinson, who is famous for "making [cast members] cry" and "[screaming] at them" on set to evoke more emotional acting, per one report. Sources said he and Ferreira, who played Kat on the show, especially butted heads.

Luke Macfarlane Talks Starring In Historical Gay Rom-Com 'Bros'
Ferreira, said on Dax Shepard's Armchair Expert podcast on Monday that her decision to leave Euphoria was "mutual." And while she didn't have a negative word to say about the controversial director, she did question his ability to write for Kat. "I don't think there was a place for [Kat] to go," Ferreira said. "I think there were places she could have gone. I just don't think it would have fit into the show."
She continued, "Sam writes for things that he relates to. I don't think he relates to Kat." Ferreira said she didn't know if future seasons of the show would "do [Kat] justice," and that "both parties"—presumably she and Levinson—"knew that."
Ultimately, Ferreira said she "really wanted to be able to not be the fat best friend. I don't want to play that, and I think they didn't want that either." Hmm… I'm glad to hear Euphoria didn't want to write in the trope of "the fat best friend," but surely that doesn't mean Kat should have had to be written off. It's one thing to recognize that fat characters shouldn't be written just to embody a stereotype, but when is anyone actually going to put in the work to write them as interesting, three-dimensional people?
Beyond the obvious laziness of reducing fat people to on-screen caricatures and comedic relief, the sort of writing that Ferreira suggested she left Euphoria in order to avoid has also been actively harmful to plus-size actors. In February, Rebel Wilson revealed that her Pitch Perfect contract explicitly prohibited her from losing weight. "You can't lose—I think it's not more than 10 pounds, or gain more than 10 pounds," Wilson recalled, explaining that her contract had trapped her in a box to the detriment of her mental and physical health. "I was stereotyped in playing that fat, funny friend, which is so hard, because I love those roles."
Ferreira has also spoken pretty openly about her thoughts on body image and navigating the notoriously sizeist, cutthroat entertainment industry as a non-rail-thin woman. She told WhoWhatWear in 2022 that she was sometimes frustrated by "backhanded compliments" about her body and fans' attempts to label her as a sort of body positivity icon, when she's just trying to be herself. "It's not radical for me to be wearing a crop top," Ferreira told the magazine.
She explained that she often faces pressure to be "this person who 'loves themselves,'" as it's something "people just assume," leaving her confused. "What—did I say that? I never said that.…You posted that on me," she said.