This catalog features the type of Barbie that stays sealed in a box, taunting little girls. That's probably for the best, because Mattel is dressing babies as '70s sex symbols, making cracks about working women, and encouraging heavy peroxide use.
Everyone knows that James Bond likes his drinks shaken, not stirred, but were you aware that he likes his ladies to lack a belly button?
If anatomically incorrect women aren't your thing, perhaps Barbie Collector can interest you in this Barbara Streisand doll complete with a suprisingly realistic nose.
G/O Media may get a commission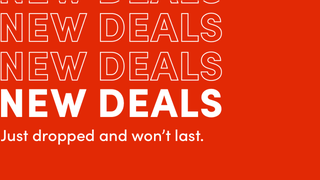 Up to 70% off
Wayfair - Cyber Week Deals
Barbie and Charlie's Angels are a natural combination, but why are Barbie's 4-year-old sister and her friends dressed as the sexed-up '70s threesome?
Barbie's semi-realistic astronaut uniform from 1965 is ahead of its time, especially when you consider that the '80s version of Astronaut Barbie wore a metallic magenta jumpsuit that would only be appropriate for space travel with Ziggy Stardust and the Spiders from Mars.
Though Barbie's shape has always been controversial, the fact that she's held down a wide variety of jobs is one of the most positive aspects of the toy. Too bad Mattel had to undermine it by adding phrases like "Get new shoes and call me in the morning!" and "I chalk it up to my Ph. D. in fashion!" to the product descriptions. Did they learn nothing from the "Math class is tough" debacle?
For those of you who liked Christina Hendricks' Golden Globes dress precisely because it reminded you of Peaches 'N Cream Barbie, this doll's for you.
There's also a 30th Anniversary Black Barbie if you'd like to relive the days when there was only one non-white Barbie.
The Byron Lars Ayako Jones Barbie doll is the perfect antidote to Barbie's less racially-sensitive past. For just three easy payments of $41.65 this doll and her aggressively mismatched ensemble can be yours.
But multiculturalism isn't what made Barbie the most popular doll ever. Jonathan Adler reminds us what Barbie's really about: high-heels, lipstick, and tons of peroxide.
Earlier: Golden Globes Fashion: When It's Bad, It's Really Bad