Former presidents Barack Obama, George W. Bush, Bill Clinton, George H.W. Bush, and Jimmy Carter–bygone reminders of leadership with dignified hair–are holding a country-themed disaster relief benefit concert at Texas A&M this evening, and prettymuch everyone thinks Donald Trump wasn't invited. It's a concert to benefit people who've lost all their worldly possessions in Hurricanes Harvey, Irma and Maria, but naturally there's president drama.

NBC asked about it, and the White House didn't return requests for comment. Barack Obama attended the opening of the George W. Bush Library in 2013, ABC notes, so it's not like sitting presidents can't hang out with former presidents. Trump made a thank-you video and posted it separately on the White House YouTube because it's not a popularity contest or anything.
It's unclear if the other five presidents gaf. On Thursday, George W. Bush and Barack Obama both sounded alarms at the divisiveness and racism in "politics." At a campaign rally, Obama said, "Some of the politics we see now, we thought we put that to bed. That has folks looking 50 years back. It's the 21st century, not the 19th century. Come on!" George W. Bush–the person whose administration dithered on climate change to the peril of life on earth, invaded Iraq on a still-unsubstantiated basis, institutionalized torture, and who was thought at the time to be historically incompetent–even sounded like a thoughtful, sensitive human being. "We've seen our discourse degraded by casual cruelty," he said. Later, he continued:
We become the heirs of James Madison by understanding the genius and values of the U.S. Constitution. We become the heirs of Martin Luther King, Jr., by recognizing one another not by the color of their skin, but by the content of their character.

This means that people of every race, religion, and ethnicity can be fully and equally American. It means that bigotry or white supremacy in any form is blasphemy against the American creed. [Applause.]
Steve Bannon is weighing in, but who cares at this point. Trump has called himself the most presidential president since Lincoln (his favorite president), so even if he gets the message, there's no love lost.
The first press release for the event announces that the presidents have already raised money to ensure that "100 cents out of every dollar" will reach victims. The original plan was to help Harvey victims and depressingly expanded to include victims of Irma and Maria (though at the writing it still doesn't include victims of the California wildfires). Funds will go to the Houston Harvey Relief Fund, Rebuild Texas Fund, Florida Disaster Fund, Juntos y Unidos Por Puerto Rico, and The Fund for the Virgin Islands. They will need as much as they can get; earlier this month, the House passed a $36.5 billion emergency funding bill, but in September, Texas governor Greg Abbott said that the state would need more than $125 billion. Yesterday, NPR reported that Puerto Rico may need $5 billion to restore power alone.
G/O Media may get a commission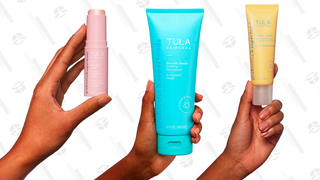 You can donate to hurricane victims via the One America Appeal page, and in the absence of a wildfire charity, the Los Angeles Times has a useful guide for helping those victims as well.
The event will be broadcast tonight at 8PM EST on One America Appeal's YouTube page. The headliner is Alabama, with The Gatlin Brothers, Lyle Lovett, Robert Earl Keen, Sam Moore, Yolanda Adams, season three winner of "The Voice" Cassadee Pope and "rising country artist" Stephanie Quayle.