Debrahlee Lorenzana says she was fired from Citibank because her beauty was "too distracting" for her male colleagues. Her story is a disturbing example of discrimination in a male-dominated workplace — but also of girl-on-girl crime.
Working women can get caught in a double bind when it comes to proper attire, admonished on the one hand not to look too sexy and on the other not to be too dressed-down or masculine. Lorenzana's complaints about her time as a business banker at Citibank sound like a perfect illustration of this problem. The Village Voice's Elizabeth Dwoskin writes,
She was told not to wear fitted business suits. She should wear makeup because she looked sickly without it. (She had purposefully stopped wearing makeup in hopes of attracting less attention.) Once, she recalls, she came in to work without having blow-dried her hair straight-it is naturally curly-and [branch manager Craig] Fisher told a female colleague to pass on a message that she shouldn't come into work without straightening it.
She was also told, according to a lawsuit that she's filed, that "she should not wear classic high-heeled business shoes, as this purportedly drew attention to her body in a manner that was upsetting to her easily distracted male managers." But when she brought flip-flops to the office to move some heavy files, she was instructed to switch back to heels. After complaining about her treatment, Lorenzana was transferred, and then fired. She alleges that many women at Citibank dressed in a more provocative fashion, but that she was singled out "as a result of the shape of her figure." Because of the mandatory-arbitration clause in her contract (we've heard about such clauses before), her suit will go before an arbitrator, not a judge.
G/O Media may get a commission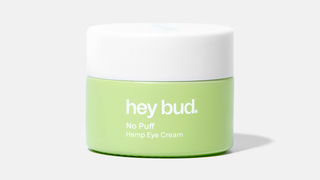 15% off
Hey Bud - No Puff Hemp Eye Cream
If Lorenzana's account is accurate, then it seems like a clear case of discrimination. It's also a reminder that holding women responsible for the way men react to their bodies is just as common in the West as it is in the Middle East. But the Voice's coverage of the story reveals another disturbing angle: the way women critique and police each other's looks. Lorenzana herself responded to her harassment by criticizing other women's attire: "If you want to talk about inappropriate clothes, go downstairs and look at some of the tellers!" In a letter to HR, she explicitly compared herself to her female coworkers, saying they "were able to wear such clothing because they were short, overweight, and they didn't draw much attention, but since I was five-foot-six, 125 pounds, with a figure, it wasn't 'appropriate.'" And describing the cultural underpinnings of her personal style, she says, "Where I'm from, women dress up — like put on makeup and do their nails — to go to the supermarket. And I'm not talking trashy, you know, like in the Heights."
It makes sense that Lorenzana would want to show she wasn't dressing less "appropriately" than other women, and since she was under attack, it's perhaps not surprising that she didn't do so in the most gracious manner. But more strange is the Voice's salacious take on the whole thing. In her opener, Dwoskin writes:
Everything about Debrahlee Lorenzana is hot. Even her name sizzles. At five-foot-six and 125 pounds, with soft eyes and flawless bronze skin, she is J.Lo curves meets Jessica Simpson rack meets Audrey Hepburn elegance-a head-turning beauty. [...] But when she got fired last summer from her job as a banker at a Citibank branch in Midtown-her bosses cited her work performance-she got even hotter.
Dwoskin closes in a similar vein, speculating that the case's arbitrator might "be too distracted by Lorenzana to focus on the evidence." Clearly she's trying to be light-hearted, but ogling Lorenzana in print the way her coworkers apparently did in life does a disservice to the seriousness of her discrimination claims. Then there are the comments. One Mary Artemis writes,
Well, I think it is time to recognize that we need to dress appropriately as women. If we dress to show off the curves, it may not be seen as conducive to business. I think it's just a mature attitude and acceptance. I, myself, as a woman, understand this.
Commenter Charmian Neary responds, ""Mary Artemis", who commented on this article, is a perfect example of the sad fact that women often are willing, even eager, participants in creating a "hostile" environment for an employee who is perceived as receiving more than her share of attention, even if that attention is unwelcome." But this argument runs perilously close to "they're just jealous." Rather than accusing commenters and coworkers alike of personal resentment, it would be more productive to ask why women, too, tend to internalize patriarchal workplace culture and all its injustices. My guess is this has less to do with coveting attention, and more to do with the feeling that playing by the boys' rules is the only way to get ahead. Neary's closing words, however, are spot-on:
If "curves" are not conducive to "business", its because "business" tends to perpetuate the primacy of men and their values — and men don't have curves. Apparently dicks are conducive to business however — as quite a few work at Citibank.
Image via Village Voice.

Is This Woman Too Hot To Be A Banker? [Village Voice]
Al Jazeera's Female Talent Resigns Over Modesty Demands [True/Slant]