Balenciaga designer Nicolas Ghesquière — who more or less established the ultra-skinny "size zero" trend that predominated in high fashion in the early 2000s — would have you believe that the entire reason he started casting such extraordinarily skinny, young models was that he couldn't afford a fit model when he was designing clothes, so all his samples turned out too small:
"Yes, we did have a size issue. We started very skinny, it's true. Strangely, we didn't have fit models at all to ... begin with — just to give you an idea of the size of the company. So we did fittings on the girls at the studio and they were often quite petite. I had a tendency to think good cut and small size, but it should be a good cut in big sizes, too. That's what want I want to focus on — it's the cut, not the sizing, and if people see they can wear something in a big size, then I did my job."
Balenciaga couldn't afford a fit model, therefore the samples were too small, therefore Nicolas Ghesquière just had to hire 5'11" 14-year-olds with 33" hips. He had no choice, you see. Also, there was that one season where the whole collection shrank in the wash. Wasn't his fault, you guys! [Sunday Times via The Cut]
---
The latest on Rachel Zoe's list of endorsements: the Jockey brand. [WWD]
---
G/O Media may get a commission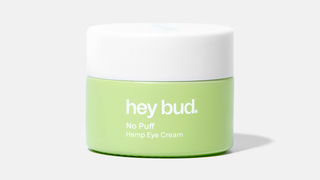 15% off
Hey Bud - No Puff Hemp Eye Cream
Gisele Bündchen's dog, Vida, has died. The supermodel shared a picture of the pair on her Facebook page to break the news. [Facebook]
---
Here is a photo of Lady Gaga sucking on Donatella Versace's thumb while Terry Richardson sucks on his thumb. Happy Monday. [Terry's Diary]
---
Francois-Henri Pinault, the head of Yves Saint Laurent parent company PPR, says he is happy with the direction the brand has taken under new creative director Hedi Slimane. Slimane's first collection was met with lukewarm reviews — and lots of commentary about YSL's newly contentious relationship with the press, what with the brand banning certain critics and attempting to restrict writers' coverage. "I totally stand by the house of Yves Saint Laurent and the decisions made by its teams or its artistic director," says the French billionaire, "and I didn't appreciate that some people tried to use me by linking my name to chatter about invitations or the seating of this or that person." That is doubtless a reference to Cathy Horyn, the New York Times writer, who was one of those banned from the show. In her review, Horyn wrote that she had "raised the matter" of the banning with Pinault and that he sympathized with her position: "Mr. Pinault expressed dismay. 'That's ridiculous,' he said. 'Journalists should be invited to shows.' Quite so." [WWD]

Meanwhile, this weekend Hedi Slimane quietly deleted all of the weirdly embittered Tweets he wrote about Horyn. Including that really embarrassing "open letter." [The Cut]

18-year-old Lily McMenamy, who had her runway debut at YSL, says that her mother, model Kristen McMenamy, helped her prepare:

"My mom was here for fashion week, and I went to visit her in her hotel room one night before Saint Laurent and she gave me a catwalking lesson, which was super fun. For the first time ever, in my entire life. It's always been kind of a secret fantasy for me. Just in her lovely room at the Park Hyatt, walking back and forth…I put on some of her Prada stilettos. [Laughs] I watched playback of myself from the show and I thought I did alright — but I was so terrified, you have no idea."

The online discount retailer Beyond The Rack is adding a dedicated plus-size channel called My Curvy Closet. There is a $15.35 billion market for plus-size women's wear in the U.S. according to the latest data. [WWD]

Kate Upton says she wouldn't turn down a role as a Bond girl, oh no. [Vogue UK]

Nine West is revamping its store format to feature something called a World According To Pumps Wall — basically a giant wall of high, mid-height, and kitten heeled pumps in a dazzling array of colors and materials. [WWD]

Mulberry has launched a Web site called Brilliant Britain, which the brand bills as a guide to all things British. Tim Walker, Alexandra Shulman, and Alain de Botton are among the contributors. [Telegraph]

Yoox is launching a Chinese edition at Yoox.cn. Like the regular Yoox, Chinese Yoox will sell past-season clothing at a discount and some designer capsule collections. Unlike the regular Yoox, Chinese Yoox "will also feature special voice recognition technology enabling consumers to search for specific color schemes by telling the site preferred color choices in Chinese." [WWD]

Also expanding in China is Jimmy Choo, which just acquired for an undisclosed sum its own Chinese business (which had formerly been managed by a distribution partner company). Jimmy Choo now operates 3 stores in China, with plans to open another four over the coming months. [WWD]

Vogue Italia apparently dedicated one of its periodic 30-page spreads to Stella Tennant, her children Iris and Jasmine, her friends Colin and Isabella Cawdor, and their daughter Beatrice. Bruce Weber visited the six while they holidayed in the Scottish highlands and shot them doing usual holiday things, like playing with lambs (Tennant) and wearing flower crowns (the girls). Weber writes in the magazine that he "wanted to give both of you [Tennant and Isabella Cawdor] some photographs that you could look back on when your children have grown and you are having some tea while knitting your grandchildren gloves for the oncoming freezing winter." [WWD]

Sisters Lizzie and Darlene Okpo named their fashion label William Okpo after their father, who came to the U.S. from Nigeria with $80 to his name in 1976. Darlene says:

"All four of us siblings are really into style in different ways. My brother's room is full of shoes. It's kind of gross. But we blame it on our Dad. Every Saturday we would go food shopping and then we'd go to the mall. He would never buy anything for us, but always for himself. We would sit in the store for three hours and he would leave with one tie. He would analyze everything."