WASHINGTON, D.C.—For weeks the fashion world has engaged in an internal debate about whether designers would or would not dress Melania Trump. Would designing for her become an implicit endorsement of her husband's campaign of hate? Many thought yes, but it's come down to the wire: she's dressed in a cornflower blue suit by Ralph Lauren, which is supposedly a nod to Jackie Kennedy (lol she could never) but looks more like she is the grandmother of the bride.

We've already seen the way Kellyanne Conway turned a rather cute Gucci look into Alessandro Michele's night terror of an android majorette, but how did everyone else in this murderer's row of cartoon villains fare in the fashion department? Well, fellow citizens, I will tell you!
First of all, let's compare outgoing with incoming. Michelle Obama, who looks like she is about to cry, could teach Melania a thing or two about First Lady fashion. FLOTUS is America's matriarch, and Michelle wore a belted tweed in a warm, welcoming shade of deep red. Melania, who always looks a little severe because that is a model's job, also looks like your cold, third stepmother who is 30 years younger than your rich dad. It's very "no wire hangers." Meanwhile, no one has ever accused President Obama of being a fashion plate, but next to Trump and his notoriously ill-fitting suits, he looks like he just stepped out of an ad for Savile Row.
G/O Media may get a commission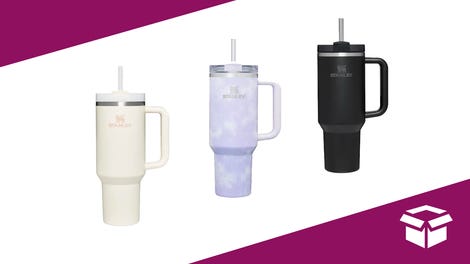 Up to 45% off
Stanley Cup Sale
Bless their hearts.
Rudy Giuliani, a man who pretends to be America's mayor but mostly just ruined everything good about New York (or set it up so Bloomberg could do it), looks like he just stepped out of his best year, 1995. Judith never did anything to me so I believe her pussy bow is in silent protest. She needed to lose that necklace like yesterday, though.
Callista Gingrich's hair is actually quite innovative, like Kylie Jenner's Paper Mag cover. At least someone's a fan of futurism around here! And Newt is really a mensch for paying his respects to Prince on a day like this, showing who we truly should be celebrating.
Hillary Clinton made a lovely, savvy decision to match her ensemble to the look of the crowd. She's above it all in this pantsuit, though. Crispy-clean.
Huma Abedin, on the other hand, wore mourning black, and looked perfect as usual.
Ivanka and Don Jr aka DJT2 both look freshly Botoxed and ready to motor. Don's double-breasted tweed has the distinct whiff of 1998, while Ivanka almost definitely had to buy her own Oscar de la Renta.
Who knows what Hope Hicks and racist-in-residence Steve Bannon are doing, but I think this is something approximating "chic" among mid-level D.C. government employees. Dress for the job you want, I guess. Going by that rule, then, the demon Kellyanne Conway is truly ready to resume her role as the leader of a three-ring circus, as she denigrates Alessandro Michele's Gucci with 2001 pumps from the Value Village and a fricking jockey's hat. This is actually extremely thrilling to see, because it's incontrovertible proof that fashion is not style, and you cannot buy style. Welcome to clown town!