In the aftermath of Justin Bieber's DUI arrest, a fellow (former) razzle-dazzle soft-shoe manchild thinks he knows how to get the wayward Canadian starlet back on track. Backstreet Boy A.J. McLean says he'd love to take Bieber under his great big bushy beard and confer upon him some sage man-band wisdom.
McLean – who honeymooned in Bora Bora at the same time as Bieber's manager, Scooter Braun – plans to contact Braun and "see if I can reach out to Justin and see if we can have a sit-down, take him under my wing, and tell him what it was like for me at that age, and maybe see if he will actually hear me."

..."One of the first things I would say is one of the tattoos that I have on me that says, 'What are you doing?' " he explains. "Are you trying to prove something to yourself? Are you trying to prove something to the press and the media? Are you trying to flip everyone the bird and say, 'I can do what I want!'? Or are you trying to ask for help and you're not going about it the right way? This could be a cry for help for all we know."

"Hopefully he'll want to sit down and we can have a little chat," McLean says. "Obviously he has to go through what he's going through, and hopefully he comes out the other end a better, stronger human being."
Follow-up questions: Is Bieber original? Is he seck-syoo-uhl? Is he everything you need you better rock your body now!!!?!!!?/!??!? [People]
---
Katy Perry caught one of the bouquets from the "Same Love" Gurmmy wedding, so now she and John Mayer are INSTANT-MARRIED. CONGRAGALAGGIES, GUYZ.
Are wedding bells in the near future for Katy Perry and John Mayer?

Perry was all smiles at Sunday's Grammy Awards when she caught one of the bouquets after 34 couples said "I do" during Mackelmore, Ryan Lewis, Mary Lambert and Madonna's memorable performance of "Same Love."

"Congrats to all the #samelove couples tonight. You had me in tears of joy for y'all! Also... Look who caught the bouquet!!! #okuuuurrrr," the 29-year-old "Roar" singer captioned an Instagram pic of herself holding a bouquet of white roses.
G/O Media may get a commission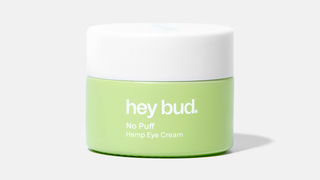 15% off
Hey Bud - No Puff Hemp Eye Cream
BEST GURMMIES ERVER. [NYDN]
---
Queen Latifah is going to sing "America the Beautiful" at the Super Bowl!
We hope Queen Latifah has plenty of warm clothes ready because she is set to sing "America the Beautiful" during the 2014 Super Bowl this coming weekend, according to Entertainment Weekly.

This year's event is the first one in the NFL's history to be played in an outdoors cold environment and luckily the weather forecast is predicting the temperatures warm up to around 40 degrees by the weekend!

Also performing at the Super Bowl this year are Bruno Mars with the highly anticipated halftime show and opera singer Renee Fleming with the national anthem.
Go Seahawks! Win the football for America! [JustJared]
---
Ariana Grande and Amy Adams wore the same dress, sooooooo...Hunger Games, I guess. It's the only way. Go. [E!]
Hillary Clinton hasn't driven a car since 1996. [E!]
I LOVE LA CROIX TOO, EVA MENDES!!! PAMPLEMOUSSE 4 LIFE AND LET'S BE SISTERS. [E!]
Zendaya "makes chokers cool again" but whyyyyyyyyyyyyyy thoooooooooo. [MTV]
Tori Spelling did NOT lose her dog I guess is the point of this article. [E!]
I don't know who these people are and I don't care what they do. [Us]
Miley Cyrus loves Elvis and weed. [E!]
Anna Kendrick has a hangover. [E!]
Diane Kruger and January Jones had a gals' night. [JustJared]
Johnny Depp is a "serial proposer." [HuffPo]
Heidi Klum broke up with that bodyguard. [People]
Yay, Hollis! Yay, Mark Mitchell! [MTV]
Later.