New York fashion week wrapped up yesterday after nine days of designer shows and presentations, and intrepid photographer Arianna Reiche did the backstage rounds for Jezebel. Read on for tips from makeup artists, models making faces, actually fewer cigarettes than one might expect, and painful footwear.
Here, a model eating backstage at Costello Tagliapietra.

Models reading.

G/O Media may get a commission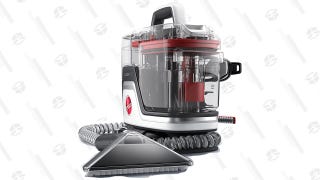 Save $10
Hoover CleanSlate Plus Carpet & Upholstery Cleaner
Peruvian Juana Burga talking to one of the other models walking in the Costello Tagliapietra show.

Singer Corinne Bailey Rae and Miss J. of America's Next Top Model fame sat in the front row.

A hairdresser fixes a model's 'do.

Head or "key" make-up artist Lottie at the Cynthia Rowley show. Lottie — no last name — is a Californian who cut her teeth in foggy old London and has keyed shows in just about every fashion capital on the globe. While the models were stuck in terror-threat traffic, we had a chance to talk shop (and by "shop," I mean my face).
Jez: What are the biggest mistakes we tend to make with our faces?
Lottie: Picking the wrong foundation color, going to bed without washing your face, not moisturizing.
Jez: What's the one tip you would give a lady about skin? Only one tip.
Lottie: Wash your face before you go to bed!
Jez: What lipstick are you wearing right now?
Lottie: Actually a custom lipstick that a friend made for me. I'm not allowed to say who it is because it's a top secret thing hes working on with a celebrity.
Well, THAT was helpful.
The scene backstage at the Gen Art show, which showcases emerging designers.

A petite makeup artist touches up a model who I would put at 6'2" in heels.

The Gen Art venue.

Models' composite cards.

Emergency supplies.

A model's handbag, which contains the high heels she changes into for castings and her large, black portfolio, or "book."

Dressers stick tape into too-big shoes backstage at Gen Art. [Jenna note: This explains why all the girls in the white shoes were walking so fucking gingerly.]

Backstage at the Libertine show.

Makeup artists' kits.

A model backstage at Libertine.

Four hair and makeup artists work on one model.

Models discussing the runway choreography.

I wonder how rich one would have to be to afford this Libertine t-shirt?

The finale or runway "flood."

Model Charlotte Free, who is known for her pink hair, and a male model pose with cigarettes for backstage photographers at Libertine.

And there you go.

A model getting her hair braided backstage before Jen Kao's show.

The nails were serious business at Jen Kao.

On the right: this board shows each model in the show, wearing the look she has been assigned, in order of appearance. On the left: this guy, who goes by AK-47, was at the tents all day. He was wearing a Lanvin for H&M dress and a hat with two of the mini McQueen "Armadillo" shoes that the Met gift shop sold by the truckload during the museum's "Alexander McQueen: Savage Beauty" exhibit.

A model on the runway at Jen Kao.

Models making faces.