Is back-to-school shopping going the way of the rotary phone and the nickel soda?
On the one hand: Business Insider got a relatively gloom-and-doom picture from a chat with Mark Cohen, former CEO of Sears Canada and current director of retail studies at Columbia Business School. Once upon a time, "back-to-school shopping" was one of those indicators investors relied upon to predict how the holiday season would shake out. Cohen waxed nostalgic:
"You would see moms arriving in stores and shopping malls with fistfuls of cash, buying bundles of stuff — stacks of tops, bottoms, and accessories for their kids.... They were stocking up on everything to take advantage of the promotions and reduced prices."
No more! Cohen said, "back-to-school shopping has disappeared," done in by "this really Armageddon-like race to the bottom with promotional pricing," so there's less incentive to pile onto the sales all at once. Then, of course, there's the fact that some categories are just antiquated. Your childhood love of fresh notebooks means naught in our digital age:
Stores like Staples and Office Depot should fare better than apparel retailers, but even those will experience a dip in back-to-school sales as laptops become more prevalent in classrooms, he says.

"If you walk around Columbia University, you see students carrying laptops, not notebooks," Cohen said. "If I look out at at my classroom virtually none of them are using a notebook."
G/O Media may get a commission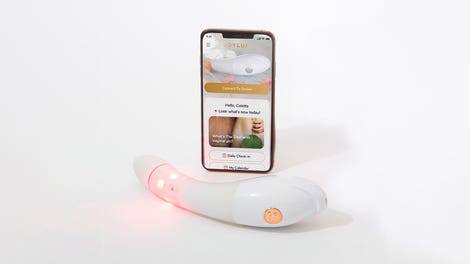 $50 Off
Joylux vFit Gold Device
Consequently, Cohen concluded, investors just can't treat back-to-school like a Black Friday preview anymore. Analysts and marketers from sea to shining sea weep softly into bouquets of freshly sharpened pencils.
All that may be true, but cast your eyes upon headlines elsewhere, and you'll see that your chances of escaping your tween's pleading and wheedling aren't great. Reuters announced that, in fact, back-to-school spending is the best it's been in four years, thanks to: "Along with the perennial run on leggings, students returning to America's classrooms this year are making a beeline for retro sneakers, 'cold-shoulder' tops, versatile laptops and USB drives."
The New York Times cited the National Retail Federation, which predicts an average $673.57 outlay on "electronics, clothes and notebooks" this year, up from $630.36 a year ago. But the Times sees that spending increasingly divided into two groups:
The fashion brand Kate Spade is most known for luxury handbags. But it is also banking on gold-accented staplers, monogrammed planners and $30 ballpoint pens to help buoy sales during the increasingly important back-to-school shopping season.

The discount retailer Dollar Tree is also expecting students and their parents to lift sales, particularly after an unusually weak second quarter. But instead of fancy notebooks, it is focusing on the other end of the price spectrum, like $1 packs of tape, glue sticks and pencils.
Meanwhile retailers that more traditionally cater to the middle class, like department stores, are struggling.