In a new interview promoting the salvaged current season of Bachelor in Paradise, host Chris Harrison took the time to share his belief that it's clear that "journalism is dead, and long gone on every level" because of the confusing and disparate reports surrounding the sexual misconduct investigation over a sexual encounter concerning two cast members on set.
Harrison was asked by Variety's Seth Kelley about "all the speculation that surrounded the event" and what it was like to be at the center of it. He responded:
What really astounded me was the level of incompetence — things that were said and printed by quote-unquote reputable media, and reputable print, and even TV. It was incredible to me the things that were said out loud about Corinne, about DeMario, about the show that were so outlandish, so false, and completely fabricated. There are people's lives in the balance that could have easily been destroyed. The fact that you can clearly see that, and long gone on every level — whether it's the network, whether it's print … it's really sad. To see it firsthand it really is amazing.
Though we don't know what reports Harrison is specifically referring to, it is certainly true that from the moment news dropped that production had been halted, the amount of information flying around as to what had or had not happened from a variety of on the record and anonymous sources was substantial. And many who have been at the epicenter of workplace environments that have been suddenly thrust into the limelight can testify to the frustration that occurs when it seems as if the "truth" is not accurately being depicted to those outside, a feeling Harrison has presented before via his distaste for the show UnREAL.
But given that the show's makers—a set of individuals that includes Harrison, who was an integral part of the portion of last night's episode devoted to dealing with the cast returning to Paradise—have done a weak job themselves explaining what happened, it's rich for its figurehead/one of its executive producers to blame reporters trying to get the bottom of the story, especially given the mess that was the messaging coming from his own workplace. Perhaps Bachelor in Paradise's creators will do a better job clearing things up as the season progresses—Corinne and DeMario, the individuals in question, have shot sit-down interviews that will air during future episodes. The idea, however, that the benefit of the doubt should be given to a show dedicated to manufacturing reality (even the bad parts of it) for the purpose of entertainment is laughable.
G/O Media may get a commission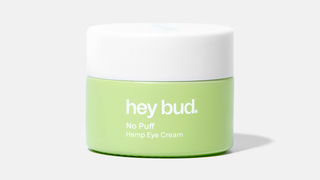 15% off
Hey Bud - No Puff Hemp Eye Cream
But don't listen to me—I, like Harrison, just make this stuff.