Russell Crowe, the Australian Oscar winner who loves good times and chill vibes, wanted to have a fun night in on Saturday, so he invited 10 people —including his very good friend RZA—over for dinner. Unfortunately for Crowe (but fortunately for TMZ), RZA brought his friend Azealia Banks along. She didn't have a good time.
Writes TMZ:
According to eyewitness accounts the trouble started when Azealia laughed out loud at Russell's music selection, and then called him and at least one other guest, "boring white men." We're told a female guest jumped to Russell's defense and suggested Banks pipe down.
Before I move on, please take a moment to imagine exactly how (based on what we know about her) Azealia Banks would respond to a stranger telling her to "pipe down." Now that you've done that:
Instead, we're told she made an insane speech/threat to Crowe and the woman ..."You would love it if I broke my glass, stabbed you guys in the throat, and blood would squirt everywhere like some real Tarantino shit." Then for good measure, witnesses say she dropped a few n-bombs ... yet Crowe remained surprisingly calm.
G/O Media may get a commission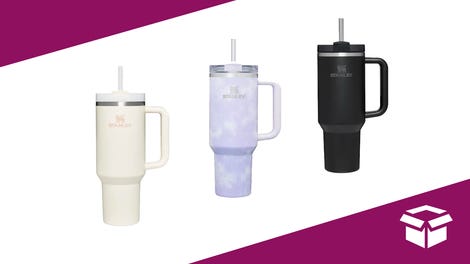 Up to 45% off
Stanley Cup Sale
When she "cocked back" her glass as though throwing was imminent, Crowe reportedly "grabbed her in a bear hug and carried her out of the suite." Security then kicked her off the premises.
Later, Banks claimed it was Crowe who called her n-word. RZA says that's not true.
[TMZ]

---
And now, a few choice quotes from an interview with Mark Billingham, Angelina Jolie's former bodyguard.
On his relationship with Brad and Angie's kids:
Mr Billingham spent so much time around the children, he said he felt like he 'fathered them, basically.'
On public opinion of his former clients:
'People love her but hate him,' he said. 'You have to figure out a way of protecting [their kids] from all that. It was challenging, but interesting."
On how accepting a gig with her is nothing like anything you've ever experienced in your own life:
'She'll say, "Hey Billy, I've got this thing in Baghdad. Can you come and help me out?" "Yeah, no problem at all."

'I'll fly out to Jordan, meet her and the kids there, then take her to meet the UN. Just sort her out.'
And finally, the real reason I'm sharing this story with you:
He also spoke of lighter moments and that Pitt once played a practical joke, explaining: 'It was Angie's birthday and we were all sitting in a frigging Audi Q7.

'I hadn't been working with them long and suddenly Brad has locked the doors and farted and we couldn't get out. He won't have a problem with me telling you.'
---
Blech.

[Page Six]
---