Though Massachusetts is one of the bluest states in the country, in its 230-year history, it has never elected a woman of color to Congress. Forty-four-year-old Ayanna Pressley wants to change that.

Pressley is running against Rep. Michael Capuano, a 66-year-old Democrat who has represented Massachusetts's 7th Congressional District for 20 years. He is a progressive and longtime supporter of single-payer healthcare who's earned A-ratings from the ACLU and NAACP and endorsements from civil rights icon Rep. John Lewis and outspoken Rep. Maxine Waters. Meanwhile, Pressley has been endorsed by the Boston Globe who praised her "rare political talents," "personal charisma" and her "shrewd understanding of how to translate values into policy."
With Pressley, Capuano faces his first significant primary challenger in years, in a race that has drawn comparisons to the Bronx primary election in which 28-year-old Alexandria Ocasio-Cortez defeated longtime Democratic Congressman Joseph Crowley. While there are some similarities—both Pressley and Ocasio-Cortez are women of color attempting to topple longstanding white incumbents—unlike Ocasio-Cortez, Pressley is a seasoned politician who came up through the Democratic Party. She served as a congressional aide for 16 years, was identified as a Rising Star by EMILY's List, and became the first woman of color elected to Boston City Council.
The district, which includes parts of Boston, Cambridge and surrounding areas like Somerville, is the most diverse in the state. While the majority of residents are people of color, the majority of registered voters are white. Unsurprisingly, there is a significant wealth gap between white people and people of color in the greater Boston metropolitan area. Pressley says that her perspective, as the daughter of a single mother, a sexual abuse survivor, and a woman of color working her way in a white-dominated political landscape, will provide the kind of leadership the district needs.
Ahead of the September primary, Pressley spoke with Jezebel about her differences with her opponent, how voters should weigh identity in this race, and the top issues she wants to tackle. This interview has been edited for length and clarity.
G/O Media may get a commission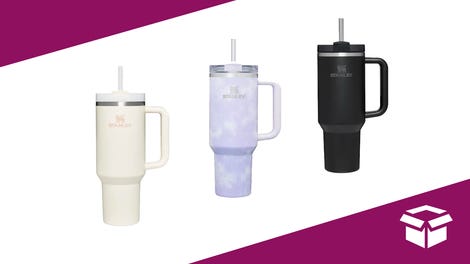 Up to 45% off
Stanley Cup Sale
---
JEZEBEL: Your district is a very progressive one. So what made you decide to run in this race?

PRESSLEY: The long and short of it is that the issues that I've dedicated my life to—economic inequality, the wealth and wage gap, structural racism, and gun violence—are only worsening under this administration. And I do believe that these times require bold, activist leadership, and this district needs someone that will be a coalition and a movement builder both in the Resistance and in the face of Trump, but also to work in partnership to advance the Mass 7th. This is the most diverse district in our delegation, and it is the most unequal across every outcome. So notice that I said economic inequalities are worsening: That means they existed long before Trump, and I'm running because I specifically want to focus on that.

You said that you want to "lead by activism." What do you mean by that?
It means, when Democrats are in the majority, and when advocates come to you and say "Will you push for gun control on the floor?" that we don't respond with a "No, because we know we're going to lose." I think it is incumbent upon us to be bolder during what are dark, draconian, and unpredictable times. It is tempting to shrink and to play smaller, but now is the time to be bold and we have a choice. This can be our darkest hour or our finest. The silver lining of this administration, if there is any at all, is that I think that people finally understand that we are one human family and our destinies are tied.
Can you say more about what coalition-building looks like for you in this role?

I recognize my candidacy is a disruptive one. Although I have been a faithful and proud Democrat since I was quite literally in utero, and have been a faithful foot soldier for this party for the past 20-plus years and worked on the federal level for 16 years, this is a candidacy that is considered disruptive because it flies in the face of conventional wisdom and narratives about who has a right to run and when and whether or not they can win.
I think our campaign is about not how to better manage Congress as it exists, it's about changing how Congress works. This is a dark blue district, [Capuano and I] will likely vote the same way. But we will lead differently.
As an example, I've been a public health champion of the Boston City Council, and one of the issues I've been closely following is maternal mortality, which is a growing issue and it shouldn't be in a developed country like the one we live in. It certainly should not be an issue in a healthcare mecca like Massachusetts, but it is. And it has very sharp contrasts between racial lines. Now there is legislation out there to study the issue of maternal mortality and to address the disparate impact it has on women of color. To my knowledge, no one in this delegation has signed off on that legislation. Now, I don't think that's because there's a lack of care and concern or knowledge. It's a lack of perspective. So legislation like that is something I would co-sponsor and then work actively to see passed. But it's also about legislation we write together.
So it's not just about how I will vote or what exists, what I will co-sponsor that's already out there. It's about the path we chart together and the legislation we craft together.
And so as an example, one of the things I've called for is the establishment of a Survivor's Bill of Rights. I'm a survivor of sexual violence, and we already have a Survivor's Bill of Rights in Massachusetts, but I'm challenging us to more broadly define survivor, because the issue of gun violence is a public health crisis and epidemic, and I'm running because this community, the 7th district, is one that is disproportionately impacted by gun violence, and so as a City Councilor-at-Large I advocated for the Dickey Amendment to be lifted. Now that's been lifted, but [gun research is] unfunded. So it's basically an unfunded mandate and if the CDC can study influenza, they sure as hell can study the root cause of gun violence.
It sounds like what you're saying is that the biggest difference between you and the incumbent is not necessarily policy, it's the follow-through on the policy, the organizing around it, the work that comes after the policy.

What I'm saying is that we will vote the same but we will lead differently; how I lead is cooperatively and collaboratively in communities. My position to abolish ICE was not one I arrived at casually. I wasn't following some trend. This was a decision that was informed by my being in close proximity to impacted families and after numerous meetings with immigrant and refugee advocacy coalitions, we know that for two administrations we've been hearing about the abuses taking place by this rogue agency and then we get a watershed moment: zero tolerance policy informed by zero compassion and zero empathy, separating children from families, and those families still have not been reunited.
If I believed that agency could be reformed from the inside out, I'd be the first one calling for it. But we're in a watershed moment when children are being ripped from the arms of their parents. And so I have arrived at my position, and I have developed my advocacy agenda, and I have written legislation in partnership with communities because I believe those closest to the pain should be closest to the power, driving and informing the policy-making. And that is how I govern. Every legislative victory I've realized was made possible because I believe solutions exist in communities. Whatever the issue is, whoever's the most impacted, I have been intentional about being in those church basements, at a candlelight vigil in the community to develop the solutions in partnership, and I think that's what the electorate wants and that's what they deserve.
What challenges have you faced by running against Mike Capuano, a 20-year incumbent?

Incumbency is a very powerful thing and there are many organizations and people that immediately default to support the incumbent because of history, because of relationships, and because of fear. Fear of something different, or because they wondered if I was viable. But I think we have proven our viability. We are on a path to raising almost a million dollars. I am not accepting corporate PAC money as a candidate, nor will I as a member of Congress.
Our median contribution is $64. We have people on this campaign who have contributed a dollar, who volunteer every day, because this is the first time that they—you know, they're facing homelessness, living in a shelter, but this is the first time that they have felt seen or head. So many people, this is the first time they've phone banked, canvassed, door knocked, and so I feel emboldened by that. I'm not operating from a place of deficit. We knew that we would be out-fundraised and outspent and knew that we would be out-endorsed. But at the same time, we knew that there was an appetite for change and for new leadership and we have been building community and a movement every step of the way.
A lot of outlets have suggested that you are the next Alexandria Ocasio-Cortez. How do you feel about that? 
I have tremendous respect for Alex. Her candidacy and her victory are inspiring. And there are some short-handed similarities. However, the 14th Bronx is not the Mass 7th. And I will win this only by doing what Alex did do, and that is to expand the electorate, to engage with a community with unlikely voters.
We are engaging everyone—super voters, infrequent, low-frequency voters, new voters—and we are engaging with them in the community every day at the front steps, in their living rooms, in their kitchens, at the bus stop, at T stations. I find Alex and her win inspiring, but we will not inherit a victory based on the national winds of change. If we are victorious, it will be because of the sweat we put in and turnout. So this is a victory that will be hard-earned because we are doing something new and different and asking the electorate to build new muscle.
How do you think voters should think about this race, where two similarly progressive candidates are running?

When I ran for the Boston City Council, I was aware, in the recesses of my mind, that if I were successful, I would be the first woman of color elected to that body. But that was not the motivation behind my run. The motivation behind my run was that I wanted to fight for girls. And by the way, people told me that was not the job of the city councilor, and I should go run a non-profit, but I established a committee specifically focused on the unique needs and challenges of women and girls and to be intentional about building healthier, safer communities for everyone. That committee has now been replicated in three other municipalities. Our first budget hearings on the City Council, when I would ask what are you doing for girls and women, they didn't have any answers. Now, when we're in a budget cycle, they come with binders. That is the power of representation. That is the power of someone bringing a different lens, it's seeing different communities. It's identifying and calling out different issues. All advocacy begins with someone naming the issue.
I am aware that if I win, there is some history-making element to this, but that is not the motivation for my run. I am black and a woman, and unapologetically proud to be both. That is not the totality of my identity. I am also a wife. I am also a mother. I was also a caregiver to my own mother in end of life, battling chronic and terminal illness. And I am a policymaker and I am a leader. And it is a confluence of all of those things that is why I am running.