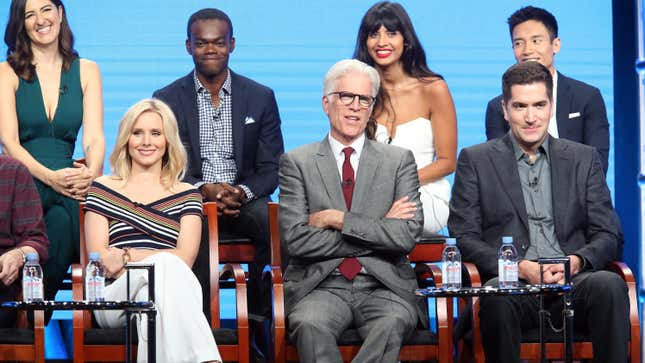 Last week, Mike Schur, the creator of The Good Place, announced that the show will end after its upcoming fourth season.
This is probably for the best, because—as much as I loved watching our heroes scurry between the Good Place, the Medium Place, the Bad Place, and perhaps the worst place of all, Earth—keeping the gang on a wild goose chase to figure out their place in the afterlife could have gotten flat real quick. And the writing on the last three seasons has been so good that it makes sense to end the show after this very solid run. But when Schur made the big announcement, he revealed the writers always knew The Good Place would only be about four seasons long.
"After The Good Place was picked up for season two, the writing staff and I began to map out, as best we could, the trajectory of the show," he said on a panel at Television Academy in North Hollywood last Friday. "Given the ideas we wanted to explore, and the pace at which we wanted to present those ideas, I began to feel like four—just over 50 episodes—was the right lifespan."
The Good Place comes back this fall, which at least gives me some time to emotionally prepare.