A million times yes: Lana Del Rey, "Venice Bitch" - After feeling mostly indifferent toward Lana's previous single "Mariners Apartment Complex," I was happy to discover that "Venice Bitch" is more my speed. I knew it from the first verse, when she said she's "fresh out of fucks forever." She claims "Venice bitch" as a term of endearment in a way that's so quintessentially Lana, but weirdly manages to speak to my sliver of homesickness as a Los Angeles native, so maybe I'm biased. Either way, Lana is at her wistful, nostalgic-for-a-memory-you've-never-experienced best, with haunting refrains and a drive-by Norman Rockwell reference that reminded me that her upcoming album will be titled Norman Fucking Rockwell.
Clocking in at nine minutes and 41 seconds, "Venice Bitch" would have been just as nice if it was cut in half. The instrumentals and interspersed vocals that make up the bulk of the song past the four-minute mark don't drag; they're oddly soothing. "Venice Bitch" is the soundtrack to a sun-soaked drive or a lovesick walk in the rain. —Ashley Reese
---
Drop it low and scream yes! Pardison Fontaine feat. Cardi B, "Backing It Up" - This song confirms Cardi B still has the unique ability to make you tap into your club persona in the middle of the day, stick out your tongue, and do a little chair bounce while she raps constructive advice, like, "Why don't you chill with the beef and get some chicken instead?" —Clover Hope
---
Happy for her, but I won't listen again: Avril Lavigne, "Head Above Water" - You read that correctly. Avril Lavigne is back with new music; ni fact, her first single in five years. "Head Above Water" is a straight-up pop-rock ballad documenting her struggle with Lyme disease and if you can get over the dramatic Christian rock vibes, it's not that bad!
G/O Media may get a commission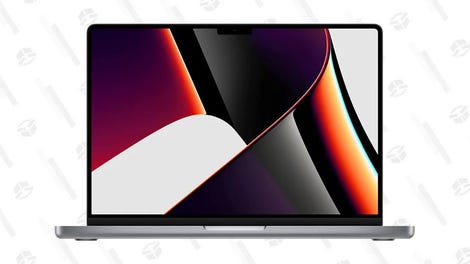 Save $300
2021 14" 1TB MacBook Pro
In a press release, Lavigne described the song: "One night, I thought I was dying, and I had accepted that I was going to die. My mom laid with me in bed and held me. I felt like I was drowning. Under my breath, I prayed 'God, please help to keep my head above the water.' In that moment, the song writing of this album began. It was like I tapped into something. It was a very spiritual experience. Lyrics flooded through me from that point on." It makes sense, and I'm proud of her for sharing her journey. The track's just a bit too "Fight Song" for me. —Maria Sherman
---
It's magical: GOT7, "Lullaby" - GOT7 have been my favorite contemporary K-Pop boy band for a minute now, and their latest single, "Lullaby," is a beautiful summation of their best bits: maximalist and bright synth-pop, retro fits, an affinity for pulling from R&B-pop past and present—a welcome respite from the sedated American dude pop of, like, Bazzi or Lauv. —MS
---
Y: Charli XCX, remixed by Yaeji "Focus" - Charli XCX's song "Focus" is already perfect, intense pop, but I love how Yaeji, known for her chilly, monotone house music, comes in and cools everything down with this excellent remix. —Hazel Cills
---
Y: Charly Bliss, "Heaven" - The New York-based rockers are back with this glitzy new single, "Heaven," which is all about falling in love. "I'm untouchable/I'm so true/I can't win/And I can't lose," frontwoman Eva Hendricks sings. But Charly Bliss haven't lost their touch; "Heaven" still boasts the band's penchant for killer guitar riffs and lyricism that verges on nonsensical. It's a topsy-turvy world, Charly Bliss has always seemed to say, and giving voice to your truest feelings is the only way through. In "Heaven," they prove that concept yet again. —Frida Garza
---
Y: Cat Power, "Wanderer" - It's not even a minute and a half-long, but this intro track from Cat Power is actually the thing that has made me most excited to listen to her upcoming album. It's sweet, it's ethereal, and it's tinged with a special kind of sadness that Charlyn Marie Marshall seems determined to face head on. I can't wait see where she goes with that. —FG
---
Y: Jessie Reyez, "Dear Yessie" - In the third single released prior to the full EP, out this October, Reyez gives us another personal gem. Echoing the desire for greatness and legacy she expressed in "Great One," she shouts out a few people she looks up to including Amy Winehouse, a voice I'm reminded of when listening to the 27-year-old Canadian singer. From her Spanish-language ode to imperfect women in "Sola," to this unapologetic expression of self, Reyez is refreshing and unpredictable both in her sound and lyrics. She concludes the bridge with: "I'm trying to share my life, but I'm precious with my energy!" Relatable. —Ecleen L. Caraballo