In The Hollywood Reporter's latest cover story, queens and close buds Oprah Winfrey and Ava DuVernay discussed their upcoming work collaborations and I bet you'll never guess what else they talked about. Guess.
D-i-v-e-r-s-i-t-y! (Diversity.) DuVernay has been targeted for a number of projects ever since Selma, including Marvel's Black Panther, which she notably turned down. Though the film would've made her Marvel's first black female director, she'll nevertheless make history with A Wrinkle in Time as the first woman of color to direct a $100 million movie. To boot, her friend Oprah is starring in it. The two also collaborated on Queen Sugar, DuVernay's show about a family of black sugarcane farmers that premieres September 6 on OWN.
For THR's cover interview, in response to inevitable questions about diversity, DuVernay reiterates a previous point she made about pushing for more "inclusion" versus that buzzword "diversity"—it's a thought similar to that of Black-ish creator Kenya Barris. "Part of the challenge that I find when I enter these conversations with journalists,"DuVernay tells THR, "is that [you've] thought about it in a way that society thinks about it: 'the plight of the woman filmmaker,' 'the plight of the black artist,' 'the plight of whoever is on the outside.' But if you receive it and treat it as a plight, that starts to manifest in you and your work, and it affects your creativity."
The conversation goes on:
Ava, you've expressed strong distaste for the term "diversity," but Oprah has made use of it. How do you both characterize the concept now in terms of the overall conversation in the industry?
DUVERNAY We aren't sitting around talking about diversity, just like we aren't sitting around talking about being black or being women. We're just being that.

WINFREY I will say that I stand corrected. I used to use the word "diversity" all the time. "We want more diverse stories, more diverse characters …" Now I really eliminated it from my vocabulary because I've learned from her that the word that most articulates what we're looking for is what we want to be: included. It's to have a seat at the table where the decisions are being made.

DUVERNAY That was your take on it.

WINFREY When Sidney Poitier came to my school [in South Africa], he gave a gift of 550 movies to the girls. He thought if you watch these 550 movies, they'll be your education for life. He wrote to the girls that his dream for them was to be able to sit at the table of the future where the world's decisions would be made. I realize now that what he was saying is to be included, to be valued as a person who has something to contribute.
G/O Media may get a commission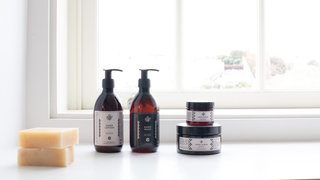 Exfoliate and Hydrate
The Handmade Soap Company
To DuVernay's first point, I don't think this means the discussions about diversity aren't important—and that black people and black women aren't having them amongst ourselves—but rather that it becomes a burden when the conversation is unilaterally hoisted upon us and that the word has become meaningless.
While DuVernay has breached another entry point in Hollywood, she seems to be choosing her projects wisely. She and Oprah also spoke about the black story that is Queen Sugar and their goal to represent the Black Lives Matter movement in ways other than visualizing rallies. "Everybody gets caught up in the slogan and the hashtag and the protest," says Winfrey. "What we're trying to do is get you to feel it. You get to feel it when Ralph Angel [Kofi Siriboe] is putting his son to bed, laying with him and reading a story. Intimacy and connection between a father and son? We've just not seen it [with black characters on series TV]."
DuVernay and Winfrey also talk about the idea of black stories being told by white people on TV, an issue that's pressing given the overwhelming lack of color in writer's rooms:
Can black stories accurately be told by people who aren't black?

DUVERNAY Artists should be free to create what we want. I believe there's a special value in work that is a reflection of oneself as opposed to interpretation. When I see a film or a TV show about black people not written by someone who's black, it's an interpretation of that life.

WINFREY I think it depends upon your level of experience.

DUVERNAY Historically, black artists have not been able to interpret black life as robustly as we should, in terms of having it distributed, financed and shared. That's why it's a beautiful moment when you have black artists who are able to articulate and express their reflection as opposed to black folk only being able to watch an interpretation of our life.
Lastly, DuVernay says her experience with Selma and the Oscars made her realize that—to paraphrase—all of it is bullshit.
"It helped me understand what I value, and my times of greatest joy had nothing to do with any of that business; it had to do with the times that I shared the film with real people and with the people who walked up to me in airports and on the street to tell me what it meant to them and their families," she says. "As I went through the awards circuit, I found it was quite a contrast between that space where people congregate around films for reasons of story and not of business and accolades. So I'll leave the analysis of [the Academy's moves] to someone else and wish everyone well." Gracious.