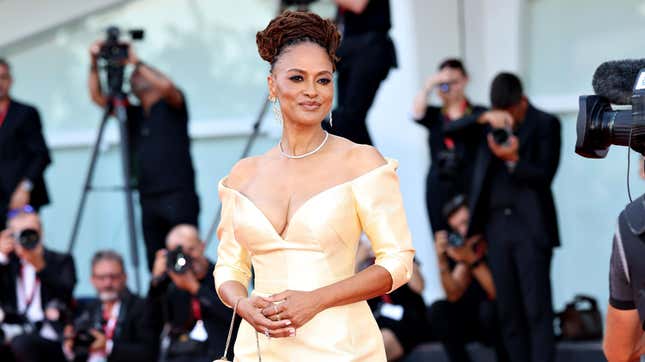 This week, Oscar-nominated filmmaker, Ava DuVernay once again made history as the first Black American woman to compete in the Venice Film Festival. Given international film festivals tend to maintain a proclivity for platforming predominantly white, male, and—too often—predatory filmmakers, that DuVernay is the first Black American woman to present a film in competition at the festival doesn't exactly come as a surprise. It does, however, speak directly to the industry's inherent racism.

Mica Burton's Rebellion Against Her Dad, LeVar Burton, Was Being a 'Star Wars' Fan
"I can't tell you how many times I've been told, 'Don't apply to Venice, you won't get in,'" the famed director and producer said during a press conference for the film on Wednesday. "It won't happen.'"
"For Black filmmakers, we're told that people who love films in other parts of the world don't care about our stories and don't care about our films. This is something that we are often told: you cannot play international film festivals, no one will come," DuVernay explained. "People will not come to the press conferences, people won't come to the P&I screenings. They will not be interested in selling tickets."

The film, Origin, is an adaptation of Isabel Wilkerson's 2020 novel, Caste: The Origins of Our Discontents, a deeply affecting exploration of race, class, and all other sources of division throughout the world. According to Origin's official synopsis, the film "chronicles the remarkable life and work of Pulitzer Prize-winning author Isabel Wilkerson as she investigates the genesis of injustice and uncovers a hidden truth that affects us all."
DuVernay and Origin securing a stage like the Venice Film Festival—infamous for lengthy self-congratulatory applause but also for premiering the films that become the year's buzziest and most trophy bedecked—is a pretty big deal in its own right, but especially given it's not backed by a big studio. This, she said, was intentional.
"The studio system is a place where I worked and made projects that I'm proud of, but there is really an aspect of control over who plays what. And there is an idea about who makes money, attracts attention and sometimes that sits at odds with who might be the best person for the part."
So, who were the best people for the parts? Aunjanue Ellis-Taylor, Jon Bernthal, Niecy Nash-Betts, Vera Farmiga, Audra McDonald, Nick Offerman, Victoria Pedretti and more. By DuVernay's description, all of which are: "meat-and-potatoes, blood, sweat and tears working actors who are very respected." My favorite things!
"This cast is populated with actors who are not quote-unquote superstars in Hollywood," DuVernay went on to explain. "So I think it gets into this idea of the value that we place on certain artists based on corporations saying who is more valuable and who's not. And thank goodness we made this film independently and we were able to hand pick everyone."

OK! An indie film about the world's caste systems starring everyone but over-hyped A-listers and helmed by a Black woman? Suddenly, Woody Allen still being invited to participate in the Venice Film Festival is of little mind. I'm just focused on how fast I can relish the work of an ensemble of meat and potato actors and one powerhouse filmmaker.
Correction: The original version of this story said Ava DuVerney was the first Black woman to compete at the Venice Film Festival. She is the first Black American woman. This version has been updated to reflect those changes.