A master class in that which is transcendently extra, the title track of Autre Ne Veut's new album Age of Transparency begins in an indeterminate spiritual potpourri of ghostly choral moaning and soap-opera piano: the sax line comes in sounding like a sunset being airbrushed onto a billboard, the constellations reforming a Jazz cup in the sky. The hands-up amen of a beat swings in, then the pistons of denatured a cappella, and though the heart of this song likes its off-Broadway stage sets and corporate inspiration posters, it still feels like someone's playing you like an organ—valving your blood, your organs, your bones.
Arthur Ashin's stage name translates to "I want no other." He self-produced his first album, his second, and, with more backup, this one too. The title track reaches a new structural fullness: by the chorus, his topline is conducting as if for a symphony, collecting the melody at the end of every phrase on the line "never enough," which recurs throughout the album. It's hungry, and this song is self-consumptive, racing ahead of itself. By the time it's fully proliferated, "Age of Transparency" has hit a glitchy perfection: as surprising as fireworks, and as human, and as broad.
The video for the track is bang-you-over-the-head commentary via rendering the ordinary horrible: as in the "World War Part II" and "Panic Room" videos, Ashin is respectably out here, exposed and winking and explicitly nightmarish. He's seeded the album to be about zeitgeist struggle, fleshly vulnerability, the Internet-Era Inability To Connect, but I could leave this heavy reading and take the rest. On a theoretical register, the album spoils and exasperates anyway; it's too inconsistent, both within songs and between them. It's so self-ravished, so monstrous; it is so full of interference and self-sabotage, it depends on a hallucinatory internal physics that none of us can quite touch.
Age of Transparency's lyrics ostensibly allude to a breaking relationship, but Ashin's voice corrodes the words it touches, and love here seems aimed either internally or at the abyss. On "World War Part II," he's singing to someone about something ("This time/ Can't be for nothing") but the refrain is emotionally stroking by the end: "I like/ alone/ You're telling me that I/ Banked on/ I don't wanna be that/ you are/ not been listening," he sings, as the backup vocals cry, "Everywhere you wanna be is not there, face it/ And never face/ And never waste it." It loops and loops, auto-processing. The album won't strap to many coherent ideas other than maybe, this is the gorgeous noise that dread makes when you abandon it; this is what it sounds like to be so self-interested that the self shreds and dissolves and leaves a spectacle in its place.
Autre Ne Veut, along with How To Dress Well, has an extended lease on a particularly good corner of the genre-smelting sweatshop: as crystallized in 2013's Anxiety and HTDW's What Is This Heart? in 2014, their game takes the unbearable, melting sexual tension of R&B and throws it at the stars. Where How To Dress Well runs ascetic and devotional, abstracted into the anti-physical, Autre Ne Veut has a messier, warmer, more muscular relationship to desire. This album is practically tentacled, reaching out to everything, eating it. It's got as much in common with James Blake as it does with Oneohtrix Point Never and PC Music, Son Lux and San Fermin, Celine and Shania. And Ashin subjects many more to his intentions: there's spaghetti-western instrumentals, Wagon Wheel college rock, hold music, musical theater, emo. "Switch Hitter" sounds like Panic! At The Disco, lightly mocked.
G/O Media may get a commission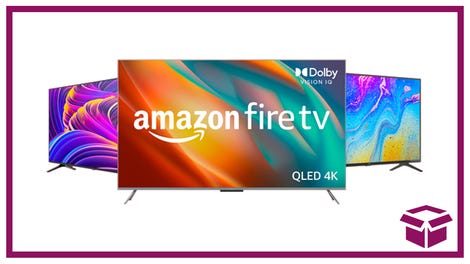 Ooh. stunning.
New Amazon Fire TVs
The figures can be irritating; Ashin's voice can sound like a gag-ribbon holding a panic attack in its place. But the album has a layer of translucent alienation that aligns all its elements: the galling and the gorgeous are one. Even with the gospel choir that opens "Get Out," the most instinctively welcoming of sounds is made slightly horrible—you feel like the singers' skin would stretch like taffy if you touched it, their hair would melt down into the ground. The album is unpredictable and internally elusive, distracting you with huge streaks of melody while keeping you subconsciously after its internal calculus and time. And so it centers more strongly on jazz than anything. Only on its best tracks does the alt-R&B category seem relevant, and only in its pursuit of a note that's finely, obliquely sexual—an unfamiliar familiarity, the first time like you've been there before, and every time after that like the first time.
---
Image via Autre Ne Veut. Contact the author at jia@jezebel.com.