The Story of the Lost Child, the fourth and final book of Elena Ferrante's Neapolitan series, will be released next week. (SPOILER: It's wonderful.) Vanity Fair was lucky enough to nab an interview (conducted over email) with the elusive chanteuse écrivaine, and the first part was published today. In it, Ferrante discusses the final novel, the intricacies of friendship, and shares a few wildly perceptive thoughts on feminism.
When asked whether or not the characters of Lena and Lila were inspired by actual people, her response is both vague and succinct, as though she's aware that we already know the answer.
Let's say that it comes from what I know of a long, complicated, difficult friendship that began at the end of my infancy.
On the broader subject of friendship, she's expectedly more verbose.
Friendship is a crucible of positive and negative feelings that are in a permanent state of ebullition. There's an expression: with friends God is watching me, with enemies I watch myself. In the end, an enemy is the fruit of an oversimplification of human complexity: the inimical relationship is always clear, I know that I have to protect myself, I have to attack. On the other hand, God only knows what goes on in the mind of a friend. Absolute trust and strong affections harbor rancor, trickery, and betrayal.
G/O Media may get a commission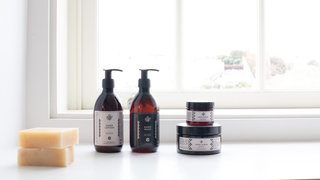 Exfoliate and Hydrate
The Handmade Soap Company
And, on the specific differences between male and female friendship, she provides what could easily be printed on the back of the Neapolitan novels.
...Over time, male friendship has developed a rigorous code of conduct. The pious respect for its internal laws and the serious consequences that come from violating them have a long tradition in fiction. Our friendships, on the other hand, are a terra incognita, chiefly to ourselves, a land without fixed rules. Anything and everything can happen to you, nothing is certain. Its exploration in fiction advances arduously, it is a gamble, a strenuous undertaking. And at every step there is above all the risk that a story's honesty will be clouded by good intentions, hypocritical calculations, or ideologies that exalt sisterhood in ways that are often nauseating.
It's the topic of feminism that Ferrante spends most of her time. When asked about the "personal is political' brand of feminism running throughout [her] novels," she responds at length.
I owe much to that famous slogan. From it I learned that even the most intimate individual concerns, those that are most extraneous to the public sphere, are influenced by politics; that is to say, by that complicated, pervasive, irreducible thing that is power and its uses. It's only a few words, but with their fortunate ability to synthesize they should never be forgotten. They convey what we are made of, the risk of subservience we are exposed to, the kind of deliberately disobedient gaze we must turn on the world and on ourselves. But "the personal is political" is also an important suggestion for literature. It should be an essential concept for anyone who wants to write.
She then struggles to give a definition of the word.
As to the definition of "feminist," I don't know. I have loved and I love feminism because in America, in Italy, and in many other parts of the world, it managed to provoke complex thinking. I grew up with the idea that if I didn't let myself be absorbed as much as possible into the world of eminently capable men, if I did not learn from their cultural excellence, if I did not pass brilliantly all the exams that world required of me, it would have been tantamount to not existing at all. Then I read books that exalted the female difference and my thinking was turned upside down.
Oh, and then there's the part that made me sad to know I'll never have an email from Elena Ferrante in my inbox.
In short, I am a passionate reader of feminist thought. Yet I do not consider myself a militant; I believe I am incapable of militancy. Our heads are crowded with a very heterogeneous mix of material, fragments of time periods, conflicting intentions that cohabit, endlessly clashing with one another. As a writer I would rather confront that overabundance, even if it is risky and confused, than feel that I'm staying safely within a scheme that, precisely because it is a scheme, always ends up leaving out lots of real stuff because it is disturbing. I look around. I compare who I was, what I have become, what my friends have become, the clarity and the confusion, the failures, the leaps forward. Girls like my daughters appear convinced that the freedom they've inherited is part of the natural state of affairs and not the temporary outcome of a long battle that is still being waged, and in which everything could suddenly be lost.
Every email I've ever sent is garbage. The interview is worth reading in full, and—like all her novels—more than once.
---
Contact the author at bobby@jezebel.com.
Image via Europa Editions.